Let me start by saying that the last two years have been a case study on focusing on priorities and filtering out noise. I'm fortunate to work in an area where it's easy to see the long-term value of what we do—advancing new technologies to improve human health—but even so, keeping our "eyes on the prize" is of greater importance than before.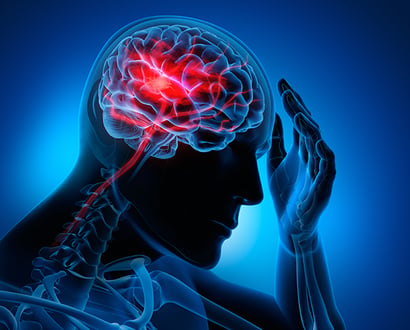 Meanwhile, the critical unmet need for neuroprotective options has become even more acute. By way of a brief, non-technical overview, our peptide (a short protein) called tatCN19o prevents the death and damage to brain cells when blood flow is stopped, either by a clot somewhere in the brain or by the heart ceasing to function. Although lifesaving, restoring circulation via removing the blockage or resuscitation often results in enduring cognitive and behavioral impairment, limiting quality of life. By administering tatCN19o immediately following restoration of blood flow to the brain, much of this damage and long-term impact is avoided. As we have seen, strokes are one of a litany of symptoms resulting from SARS-2 infection, with or without active COVID-19 disease. Even without the increased incidence of disease due to the pandemic, there are over 800k cases in the US and roughly 77m globally each year. As of writing this, there are no available neuroprotective options, resulting in complete market whitespace and a multibillion-dollar revenue opportunity.
Neurexis Therapeutics was formed in early 2020, just as COVID-19 was emerging as a potential pandemic threat. Although this created not insignificant challenges, I believe that we—as a company—emerged more resilient because of it. Our overriding goal is the preclinical and clinical validation of our novel neuroprotective technology originally developed at the University of Colorado's Anschutz Medical Campus. We took a very disciplined approach and successfully secured $750k in grant funding from Federal and State sources, which offset the need for additional dilutive capital. The added benefit of this strategy is that we were able to reach value-enhancing milestones, which improved the valuation of the Company, thereby limiting the dilutive impact on current investors. Building on the extensive foundation of proof-of-concept data in mouse and pig models of ischemia, we've validated the stability of the peptide. We have begun Investigational New Drug (IND)-enabling studies, including pharmacokinetics and toxicology. Also, during this time, we strengthened the team, adding a Vice President of Research and Development, as well as a Program Manager. Looking ahead, we plan to schedule a pre-IND meeting with the FDA this year to confirm that both our preclinical and clinical strategies are in alignment with regulatory requirements. I can't emphasize enough how significant an event this will be for Neurexis.

Now, I don't want to leave the reader with the impression that bringing an entirely new class of therapeutics forward will be easy. Even with the scarcity of options, the neurology segment is one of the more challenging areas to develop a drug. Having said this, there has historically been a great deal of interest in the space as confirmed by past investment, partnering and acquisition data provided by the Biotechnology Industry Organization (BIO). In each of these categories, neurology consistently ranks in the top five even with the cyclical nature of annual deal flow.

Anyone who invests in healthcare is often partially motivated by their personal experience with diseases: It's almost impossible to completely block out this factor. Given my family's history of stroke, for example, combined with the paucity of medicines to prevent and/or treat the disease, I have an underlying fire in my belly to make a difference in this arena. As such, my team and I continue to work tirelessly to make a dent in the stroke universe. On this note, I am excited to announce that Neurexis has opened a Series A round for up to $10m. With this funding in place, we will be able to accelerate entry into clinical testing of tatCN19o in healthy patients in a Phase Ia study, with the ultimate goal of generating efficacy data in Phase Ib or IIa to drive acquisition of the Company by a large pharmaceutical organization. If you would like to learn more, please contact me at michael.artinger@neurexistherapeutics.com.