"Did you eat too much candy as a child?"
"You don't look diabetic…you are not at all overweight."
"You just have to watch your sugar intake, right?"
These are typical, insensitive comments that people with diabetes often hear when others first learn about their disease. What's worse, these comments are the least of a diabetes patient's worries.
Few people understand that Type 1 or severe Type 2 diabetes is a non-stop source of stress. Managing glucose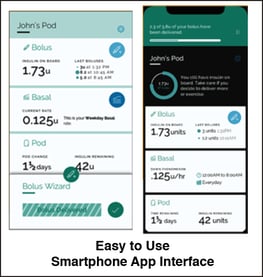 levels through blood tests, insulin self-injections, exercise, and careful monitoring of carbohydrate intake is a MUST … or else one risks a trip to the ER via ambulance or suffering long-term consequences such as blindness or kidney failure.
SFC Fluidics' mission is to eliminate the constant worry of diabetes through automation of the multiple daily blood glucose tests and insulin injections. Our goal is to make a person with diabetes "feel normal." The sentiment of "feeling normal" is what diabetes patients most often describe as their target. Patients want to forget that they are saddled by the disease.
Using microfluidics-based technology, SFC has developed a small wearable pod that can inject carefully measured insulin droplets at 6-minute intervals through smartphone app control. With this three-day disposable pod, the aim is to eliminate the four to six per day self-injections of insulin. The patient must still monitor blood glucose through a continuous monitor or several fingerstick tests per day.
SFC's next generation product will physically integrate our proprietary disposable pump with a continuous monitor and an artificial intelligence-based software. The result is ONE automated glucose testing/insulin dosing pod with an algorithm-based control – also known as an artificial pancreas (AP).
Early-stage AP systems currently are being marketed by Medtronic. The downside of today's product offering is lack of convenience (two wearable pods with silicon tubing) … not exactly conducive to "feeling normal."
In addition, insurance companies limit access to pumps because of the financial risk (upfront cost of $5,000).

Our core technology is a novel, patent-protected electro-chemiosmotic pump, the ePump®. The ePump is unique in its ability to accurately pump low volumes of fluid with no mechanical/moving parts. The amount of fluid pumped is controlled precisely by controlling the electrical current delivered to the pump. Due to this design property, it is ideally suited to be controlled by a simple electronic circuit via software.
To ensure that the patient will not be exposed inadvertent insulin dosing, the ePump is used in conjunction with a novel valve technology which does not allow unrestricted flow of the drug into the patient.
Finally, SFC has developed an innovative sensor that can detect, within seconds, any obstruction of the dosed insulin into the patient. At all times, patients are confident that they are being dosed exactly what they direct the pump to dose.
SFC Fluidics business model is to expand the insulin therapy compliance and improve clinical outcomes by:
Providing superior precision for the delivery of today's insulin and the future concentrated insulin aimed at the broader adoption by Type 2 diabetes patients;
Miniaturizing pumps for a reduced on-body experience and integrating with digital health platforms for augmented coaching and support;
Focusing on design for manufacturing from the beginning to ensure low cost of goods;
Maintaining a customer-focused approach.
NEXT STEPS
SFC plans to submit its insulin pump for FDA 510(k) in the first half of 2021. Obtaining FDA clearance represents a significant value-creating milestone.
The next step in SFC's AP artificial pancreas product development is the functional pod for prototype testing in animals. This milestone is anticipated in 2021, followed by human testing. The company has received a funding commitment from the Juvenile Diabetes Research Foundation (JDRF) for this development.
LOOKING FORWARD
SFC's exciting combination of novel technologies and future product offerings, which feature substantial competitive advantages, has already generated interest from several large global companies. These companies have expressed interest in partnering with SFC in various ways to get SFC's products into the market. An outright acquisition of SFC or its technologies is also a significant possibility.
However, if SFC chooses to take its product offering to the market rather than selling, it has a realistic chance to become a multi-billion market cap company as evidenced by Insulet and Tandem Diabetes Care, two publicly held insulin pump companies with market values of $11B and $4B, respectively.
To learn more about SFC Fluidics, please visit our website. https://www.sfc-fluidics.com/