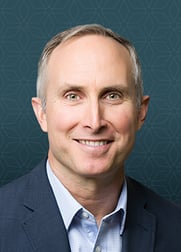 I have been very fortunate to have had a varied and diverse career accelerating the development of life science innovation, including therapeutics, vaccines, medical devices, diagnostics, analytical instruments, software and other related technologies across many different therapeutic areas and diseases. If someone were to ask what I see as the most important theme for me, it would be the prevention of the sickness and death caused by infectious diseases. Why? Nowhere else in the healthcare continuum is there a more obvious and cost-effective means of eradicating global suffering than the creation of new and improved vaccines.
COVID-19 was the most significant global pandemic since the 1918 Spanish Influenza outbreak, and—even though approaches to healthcare have improved dramatically in the intervening 100-year period—it laid bare how unprepared we still remain. Although the emergence of mRNA-based vaccines provided a new tool in the arsenal of options, it is not a perfect solution. The advantages of this method (rapid response) are in many ways offset by the short-lasting immunity (months) leading to frequent boost injections, use of a single antigen (Spike protein) and challenging storage conditions (-20C to -80C), to name a few notable examples. Other vaccine strategies (inactivated, attenuated, subunit, etc.) are similarly characterized by both pros and cons. So it should come as no surprise that a substantial unmet need for superior vaccine technologies exists.
Overview of the diverse types of vaccines and their potential advantages and disadvantages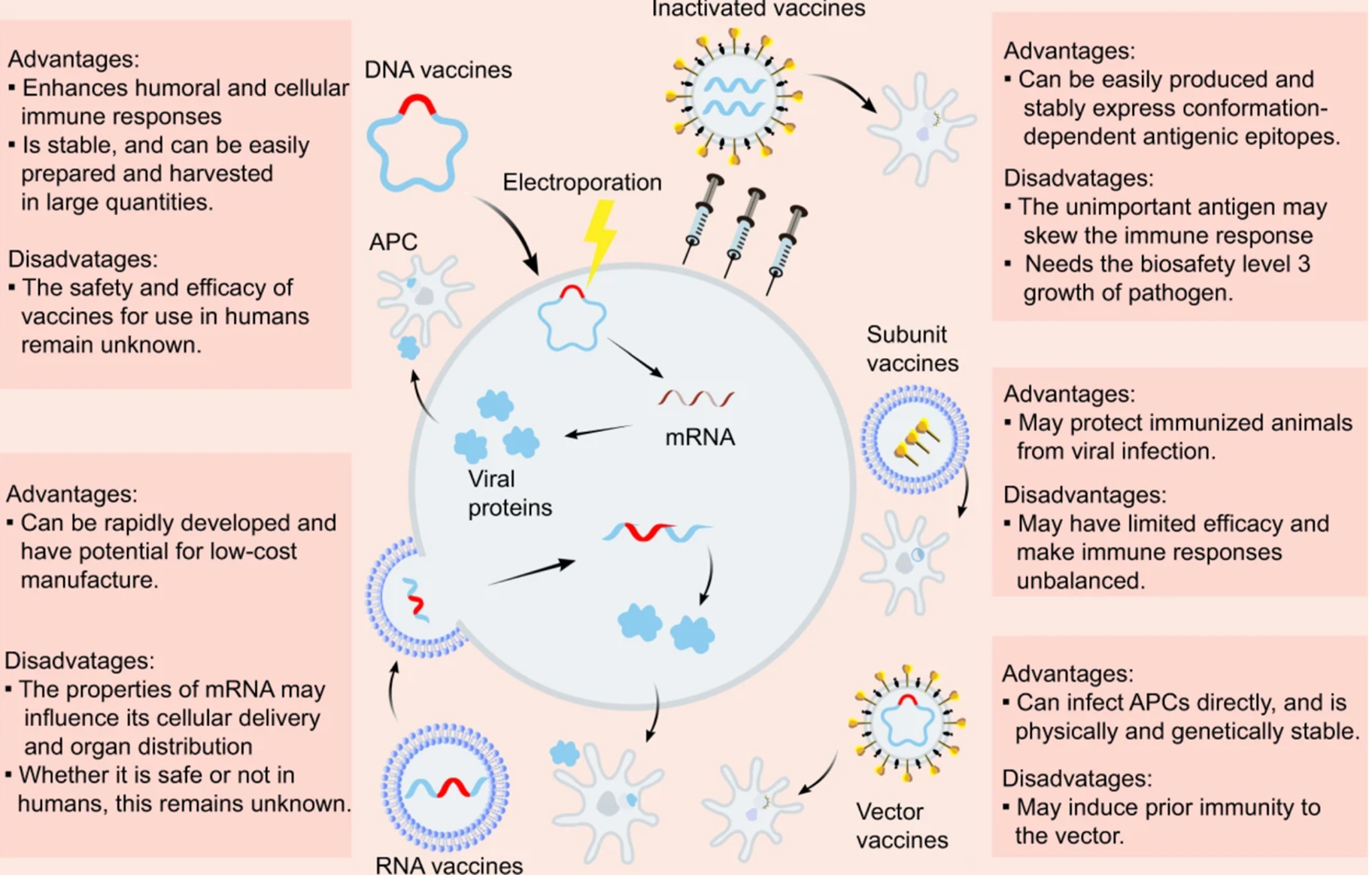 Source: A systematic review of SARS-CoV-2 vaccine candidates. Signal Transduction and Targeted Therapy 5;237 (2020)
Given the overwhelming focus on COVID-19 during the last 3 years, a potentially larger concern is the lack of vaccines for many of the world's most deadly diseases, as well as suboptimal vaccines with ample room for improvement. This begs the question: Have we been too intent on addressing SARS-CoV-2 and taken our attention away from other, potentially more severe pathogens? In some ways, this was borne out by the recent RSV epidemic, and could be further validated by the troubling incidence of avian to human transmission of influenza, which may lead to new pandemic strains. Not to be alarmist, but I think it safe to say that factors such as population growth, climate change, pollution, global travel and others will increase the frequency and severity of future outbreaks.
Unmet need in infectious diseases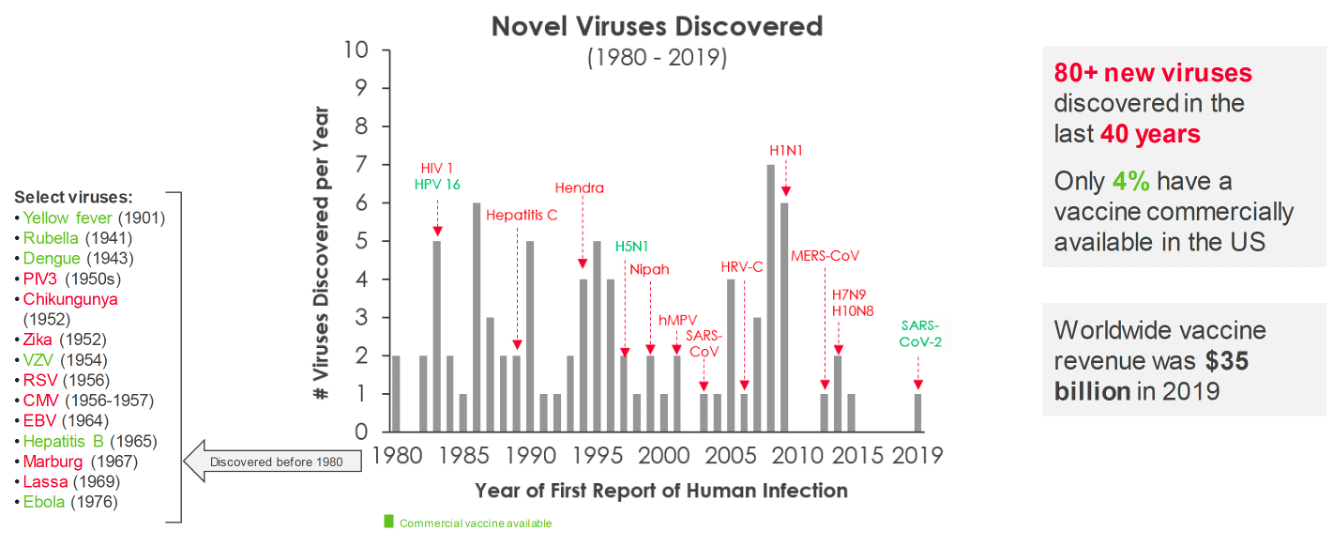 Source: Moderna
Among my roles as Executive Vice President and Managing Director at VIC Tech, I am presently serving as interim CEO of Solaris Vaccines which was formed in August of 2021 to bring new solutions to the vaccine industry. Innovation licensed from Colorado State University and trademarked under the name SolaVAX™ allows pathogens (viruses, bacteria, parasites, fungi) to be rapidly rendered non-infectious, while retaining the ability to elicit broad and durable protection. SolaVAX uses exposure to precisely controlled UV light in the presence of photosensitizer (vitamin B2) to specifically disrupt the genetic material of the pathogen without impacting the protein antigens. The result is an inactivated but intact particle which can then be used to vaccinate patients. This gentler approach to inactivation (compared to traditional methods using toxic chemicals or high temperature) is important in that all of the pathogen antigens are present and undamaged leading to the generation of antibodies against antigens that are in the same conformation as they are in the circulating infectious agent. Thus, the level of protection provided by the vaccine should be higher than it would be if the method used to create the vaccine in some way changed the antigens.
SolaVAX Mechanism of Action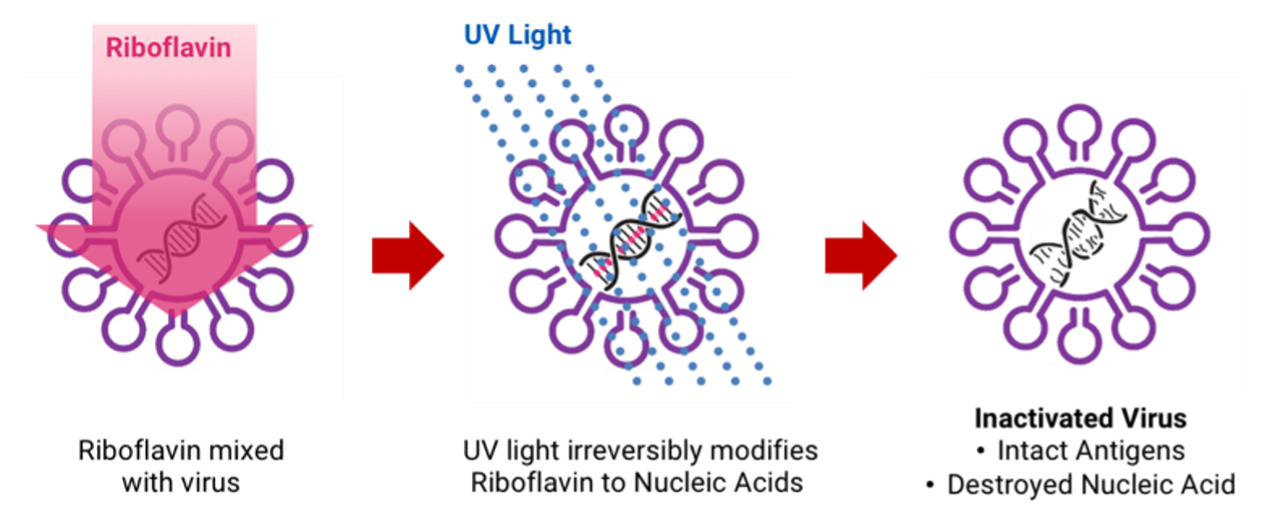 Solaris and its collaborators continue to generate proof-of-concept data validating the ability of SolaVAX to create new vaccines for a variety of infectious agents, and ongoing studies will compare these to traditional vaccines to determine if our approach leads to better and/or longer-lasting protection. If this is indeed the case, given the inherent advantages of the SolaVAX process such as speed, scalability, safety and simplicity, will add a powerful new option.
Early proof of concept results for the SolaVAX-SARS-CoV-2 vaccine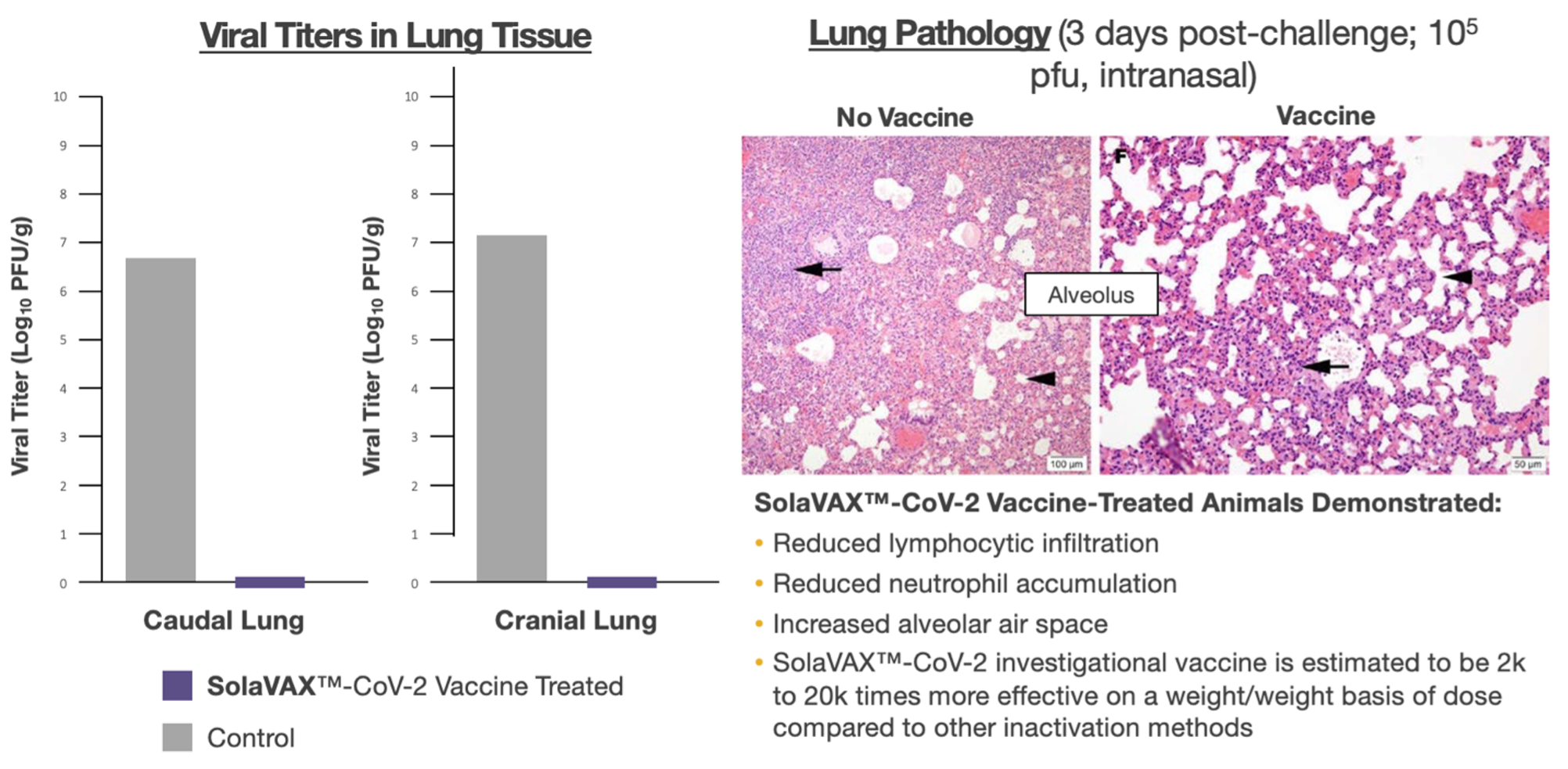 As the CEO of Solaris (and a lifelong student of vaccines), I am excited by the opportunity the Company presents and will continue to work with a very talented team to secure the resources needed to validate the SolaVAX platform. This includes building on the initial $18M contract from NIAID to our CSU collaborators to take the COVID-19 program through phase I clinical studies, an SBIR grant to accelerate ongoing influenza work, funding for a TB vaccine, and optimizing the throughput and scalability of the SolaVAX process. Please feel free to contact me at michael.artinger@solarisvax.com if you are interested in learning more about this important work.