For an investor seeking a decision on whether or not to invest in an innovation-based startup, there are numerous factors they need to take into consideration. Some of the most important questions that need to be answered are the following:
1. Does the product/technology serve a significant unmet need in the market?
2. Is the market opportunity large?
3. Are the market adoption drivers and reimbursement well understood?
4. What is the estimated capital requirement, timeline, and regulatory path?
In addition to these fundamentals, it is essential to understand the intellectual property landscape. For life science startups, which may take years and millions of dollars to bring a product to market, investors require "defensible" technologies typically protected by a robust patent portfolio. It is important to review both patentability and freedom to operate i.e., just getting one or more patents is insufficient; it's necessary to understand what other patents already exist that might be limiting.
You can outsource patentability and freedom to operate reviews but you can also take advantage of free patent databases to conduct an initial review yourself. For example, Google Patents, Espacenet, USPTO, etc. can be used to find "prior art" and "similar patents". Google Patents has quite a user-friendly interface and one can use it without prior knowledge or training on patent searching. See our step-by-step guide for using Google Patents for an initial review.
A patent landscape analysis helps answer the following questions:
1. How novel is the invention and, more importantly (because novelty alone is typically not sufficient), how different is your patented or patent-pending technology from other seemingly similar patents? How broad or narrow are your claims and what is the depth of their coverage? These factors will dictate how effectively you can operate in your target market.
2. Will the startup be able to bring its product to market without violating other patents? In other words, do you have freedom to operate?
3. How difficult or easy it is for competitors to work around your patents?
4. Who are the top inventors and top assignees (which could be national or international academic and research institutions as well as private players - both large companies and smaller startups) working in the same domain? Some of these could end up becoming your research collaborators and commercialization partners, so this analysis not only helps you identify your competitors but also enables you to recognize whose expertise can be leveraged to successfully bring the technology to market.
5. A thorough patent landscape review provides insight into the existing prior art in that field and reduces your risk of infringing upon existing technologies while providing information needed to help build a robust IP portfolio.
It is important to do a comprehensive non-patent literature analysis as well, to get a holistic view of the competitive landscape. A blind spot of a preliminary assessment using a database like Google Patents is that sometimes organizations and inventors with fewer patents do not make it to the list of top assignees and top inventors. The probability of missing an important or highly relevant patent is even higher if you have a large list of similar patents to begin with.
It is often in the best interest of companies to conduct an IP review at regular intervals to keep up with the innovation happening in the field and be ahead of the curve when it comes to potential infringements from old and new competitors. Leading IP attorneys recommend doing this every quarter, but for a small company that may be more often than is feasible for the resources available. Startups can choose to outsource this analysis to third-party companies specializing in IP but it is also possible to simply periodically update and maintain an IP landscape using one or more of the free databases available.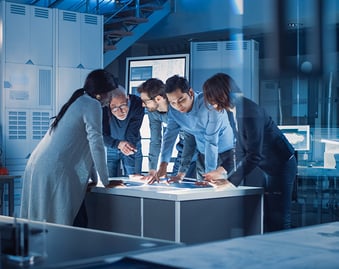 During my time as a Fellow at VIC Technology Venture Development, where one of my responsibilities was to scout for innovative life-science technologies that have potential for commercial translation, I experienced the power of this analysis first-hand. Without getting into the details of what I was investigating, I got an opportunity to pitch a promising medical device technology to VIC's opportunity assessment team and internal advisory board. Although the presentation was well-received, and there was unanimity on the commercial potential of this technology, it was not approved for company formation by the Board of Directors (rightfully so) due to concerns over the product's competitive differentiation in an already-crowded market. This is where Google Patent searches came in handy for us to gain a deeper understanding of the competitive landscape. Without outsourcing this to third-party IP firms, a simple analysis conducted internally (of course, in combination with conversations with subject matter experts) made it increasingly clear that it would indeed be quite difficult to operate in this market. Because even though the technology was novel and useful and meeting an unmet need, the differentiating factor wasn't substantial enough to drive users (surgeons) and purchasers (hospitals) to choose our product over competing products already available in the market or in development.
VIC Tech specializes in commercializing innovative early-stage life-science technologies, including medical devices and therapeutics (drugs, vaccines). VIC's thorough internal vetting process, by its team of seasoned life-science experts, entrepreneurs, and investors, significantly de-risks the investment for investors looking to invest in valuable life-sciences companies with potential for high returns and/or seeking to diversify their portfolio with private equity. Internal patent landscape review, using free available tools, is one of the important assessment steps.