Recently, the medical device and diagnostics sectors have seen considerable disruption. Common medical devices used in disease detection and treatment, for example, imaging systems such as X-ray and MRI machines, CT- and PET-scanners, and programmable implants such as pacemakers and defibrillators, have been around for quite some time now but have advanced substantially in the past couple of decades.
Diagnostic devices that consumers can use on their own at home, such as pregnancy kits, finger-prick diabetes tests, pulse oximeters, wearable fitness trackers, etc., have been game-changers. Innovative medical
devices and diagnostics technologies that enable more efficient, convenient and accurate diagnosis and treatment of different diseases and health conditions will remain in demand. With surgical procedures becoming increasingly less invasive and diagnostic tests becoming increasingly more affordable and precise, healthcare ecosystems worldwide are constantly evolving to meet public health needs. The global medical device market is expected to hit $745 billion in 2030, with a CAGR of 5% between 2020 and 2030. In this article, we take a look at industry trends, challenges and opportunities in the medical device space that life science entrepreneurs and investors should consider before they invest their time, effort and money in a startup bringing a new medical device to market, which can often be a risky and resource-intensive undertaking.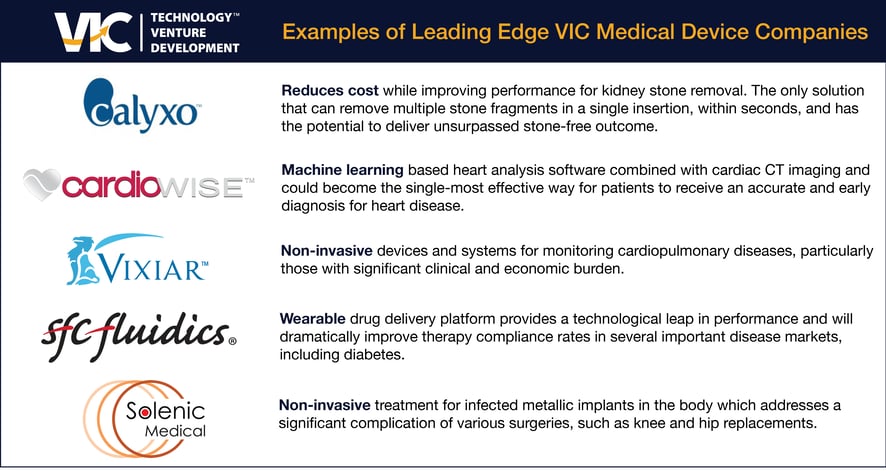 Shifting demographic trends, such as declining fertility rates and increasing life expectancy resulting in an aging population, are significant market drivers for medical devices. As per United Nations and U.S. Census Bureau projections, the global elderly population will rise from 8% of the total population in 2015 to about 18% by 2060. In the U.S., the elderly account for nearly one-third of the total healthcare consumption, about five times the spending per child and three times the spending per working-age person as per 2014 estimates. In addition, the increasing prevalence of chronic diseases such as cancer and diabetes is expected to contribute significantly to the medical devices market. U.S. healthcare expenditure is anticipated to grow from $3.5 trillion in 2017 to $6 trillion in 2017 at an annual growth rate of 5.5%. Projected growth in annual spending for Medicare of 7.9% will likely contribute substantially to this increase in national healthcare expenditure over the coming decade. Legislative developments will have an enormous effect on the demand and pricing of medical products and services.
During the global COVID-19 pandemic, the healthcare industry witnessed significant advances in life sciences product development at a pace rarely seen before. We've gone from RT-PCR tests, conducted on nasal or throat swab samples—typically collected in hospital/clinic settings or mass testing centers—that take days or weeks to process, to rapid antigen at-home self-test kits that provide results within 15 minutes. Point-of-care (POC) diagnostic devices that eliminate the need for specialized equipment and trained personnel or close proximity to testing lab facilities will continue to gain traction and become new standards. Life-science companies developing rapid-response technologies at the point-of-use will be better positioned to serve patient needs both in normal times and in a global health crisis. Important factors that will determine successful FDA approval and market adoption of POC technologies include accuracy (sensitivity and specificity), reliability, ease-of-use, time-to-result, and of course, cost.
The medical device industry will continue to see the integration of artificial intelligence (AI), machine learning (ML), and the internet of things (IoT) in the increasingly digital and interconnected medical devices being used in the new normal of remote patient monitoring and care. The market size of AI in healthcare is expected to increase from $10.4 billion in 2021 to $120.2 billion in 2028, a nearly 12-fold increase. AI/ML technologies have the potential to improve manufacturing efficiencies and product quality, reduce supply chain bottlenecks and cybersecurity risks, accelerate the product design and development process, and help manage electronic health records, each of which has numerous, significant unmet needs in the industry. 3D printed objects, surgical tools, medical robots that assist doctors and nurses with invasive surgical procedures in the operating room, combined with minimally invasive outpatient procedures, will continue to gain market adoption. 3D printing capabilities are expected to grow primarily in orthodontics, dentistry, customized medicine and prosthetics.
Robotic technologies have seen double-digit growth over the last five years, and the trend is set to continue its upward trajectory. The minimally invasive robotic surgery market is predicted to grow from $5.5 billion in 2021 to over $25 billion in 2025, a nearly 5-fold increase within a few years. The COVID-19 pandemic has caused a surge in robotics in hospital settings. Accurate, reliable, easy-to-use and cost-effective robots are increasingly providing safe and socially distanced pre-, intra-, and post-operative care, proving more efficient for hospitals and more effective for patients. Wearable health and wellness devices have seen a dramatic increase in usage in the past few years. They offer an unprecedented opportunity moving forward due to the sheer amount of data collected in real-time and applied to early disease detection and health monitoring. Innovations in robotics and wearables are expected to outlast the pandemic.
Emerging global markets: Growing economic prosperity and awareness, access to quality healthcare, increasing healthcare expenditure, high prevalence of infectious diseases, growing prevalence of chronic diseases in developing countries are examples of market drivers. Limited pricing growth for incumbent products in the U.S. combined with a growing global market provides domestic medical device manufacturers with an opportunity to broaden and diversify their geographic revenue base. Orthopedics, prosthetics, and dental products will be key growth segments in the global market for medical devices.
Bringing medical devices to market in the U.S. is a complex process that requires an in-depth understanding of the device's design, development, and classification, preparing a premarket application for submission to the FDA, and working with the FDA throughout the clinical trial and approval process. The following are some considerations that investors need to keep in mind to be successful in the medical device space.
Know the regulatory pathway:

Have realistic expectations of the timeline and costs involved, and by extension, the timeline and extent of return on investment. Regulations govern various steps, including medical device design and development, preclinical and clinical testing, premarket clearance/approval, registration and listing, manufacturing, labeling, storage, advertising, sales and distribution, export and import, and post-market surveillance. Is the technology a class I (low-risk), class II (moderate-risk), or class III (high-risk) device? 510(k) clearance process for devices "substantially equivalent" to existing "predicate devices" generally takes between 90 days and one year for completion, depending on clinical data requirements. The premarket approval (PMA) process, typical for class III devices, is more stringent, time-consuming and expensive. Extensive technical, preclinical, clinical, and manufacturing data are required. Once the PMA is successfully submitted, the FDA begins an in-depth review and the process can take several years to complete before the device is officially approved.




Source Figure 1 and 2: https://mercercapital.com/article/five-trends-to-watch-in-the-medical-device-industry

Understand the reimbursement landscape and pricing strategy:

The current healthcare system is complex and barriers to entry for new products are high. Customers/key decision-makers (physicians, surgeons, product procurement/approval committees at hospitals) are responsible for selecting equipment/devices to use for their consumers (patients). Consumers are one or several steps removed from the interaction among key stakeholders in the system, including the customers mentioned above, medical device manufacturers, and third-party payors (government or private insurers). As a result, they are largely disconnected from the pricing of medical devices. Medical device manufacturers receive payments from insurers, who typically reimburse healthcare providers for routine procedures. It is crucial to know if the new device being brought to market will be covered by insurance. If yes, how much will the payor reimburse? Limited/low reimbursement growth for hospitals—the largest market for medical devices—due to some aspects of ACA (Affordable Care Act) is likely to push procurement/approval committees to adopt higher standards to evaluate the benefits of new procedures and devices, as well as a more disciplined price bargaining stance. The transition of the healthcare delivery paradigm from fee-for-service to value

models is expected to lead to fewer hospital admissions and procedures, given the focus on cost-cutting and efficiency. Medicare payments are increasingly tied to

APMs (alternative payment models)

to improve the quality of treatment and patient outcomes. Instituting price ceilings on specific medical procedures, which deflates reimbursement rates of third-party payors, is forcing down product prices for existing products. For all these reasons, making sure a new technology is a substantial (not just incremental) improvement over an existing device, as well as demonstrating clinical and economic value of the product over existing solutions is essential to improve its likelihood of adoption and ensure high margins and/or returns to investors.
Does the startup team have trusted advocates who champion the product to VACs

(value analysis committees)

in hospitals or to key stakeholders?

Having expert physicians and surgeons with first-hand knowledge of specific problems and unmet needs in different branches of healthcare, ex. orthopedics, pulmonology, oncology, etc., is essential to understanding market adoption risks and establishing a viable strategic plan for new medical device and diagnostic companies.

VIC's team combines seasoned life-science executives, physicians, medical device developers, and regulatory specialists. Their expertise and networks are leveraged to understand market needs and reimbursement strategies, successfully navigate the FDA regulatory process and involve key stakeholders throughout the product development and regulatory process. The extensive front-end due diligence on new technologies combined with the ongoing support of the various elements of the VIC innovation ecosystem (

Business Model - VIC Tech

) provides a lower risk way of realizing substantial investor returns in medical device and diagnostic companies.




References: