Nob Hill Therapeutics' Executive Chairman Paul Atkins will be presenting at the Partnership Opportunities in Drug Delivery (PODD) conference during the DryNeb – Advancing Pulmonary Drug Delivery session on Friday, October 29th at 12:00pm ET.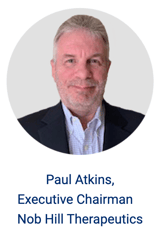 PODD is an annual virtual event where members of the pharma, biotech and drug delivery industries gather to share cutting-edge business and scientific content in the field of drug delivery. In addition, PODD provides business development opportunities through organized networking for new, emerging and established collaborations.
Atkins will discuss the challenges of high-dose drug delivery to the lungs and highlight how Nob Hill Therapeutics' patented DryNeb™ addresses those issues. DryNeb provides a novel and efficient approach to achieving lung delivery via mechanical energy input to a static powder bed to facilitate more effective pulmonary delivery. The technology is being applied to the delivery of anti-microbial agents to treat lower respiratory tract infections.
To learn more about PODD visit: theconferenceforum.org
To learn more about Nob Hill Therapeutics visit: nobhilltherapeutics.com