As the recent pandemic has made all too clear, organizations need to proactively prepare for the realities of a dispersed workforce, which is especially true for investor groups such as venture capital and private equity. Having remote employees makes sense in the long run, regardless of the cause of interruptions to "normal" life. These include, but are in no way limited to:
Happier, more productive staff
Lower environmental impact by avoiding travel into a central location as well as heating and cooling said office
Reducing infrastructure costs
Being able to hire the best talent no matter where in the world they are based
Lessening the risks of having all staff at the same site
My organization, VIC Technology Venture Development, was fortunate in that we had put in place many of the tools we needed to continue our work uninterrupted prior to Q1, 2020 when much of the world was in lockdown. The following examples are not meant to be taken as gospel, but as suggested options, which may or may not be the best fit for your organization's specific requirements.
Client Relationship Management / Marketing Automation / Opportunity Assessment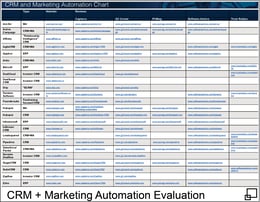 In late 2018, I began a focused effort to move the firm away from the all-too-common approach of keeping contacts in Outlook and Excel spreadsheets to a more robust, durable solution. At the same time, we were looking to improve our marketing and communications activity. A system enabling teams to collaborate on projects—be they acquisition target screening, competitive landscape development, in-licensing analysis, investment due diligence, partnering evaluation, and so on—would be an enormous advantage. In past lives, I've had experience using a variety of CRM (Salesforce and Sugar) and Marketing Automation tools (Act-On, Marketo, Pardot), but was aware that there were an increasing number of options out there. So, I did what any data-junkie would do, and quickly evaluated 25 CRM and/or MA solutions to find one that would satisfy our diverse requirements and not break the bank. The primary constraints were that we'd prefer one solution over multiple different systems, that it work seamlessly day one and not require significant onboarding or integration, be intuitive to use and flexible, and be well-regarded in our specific or closely-related industries.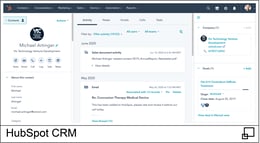 We wanted to avoid highly-focused, specialized, niche products since they would require purchasing multiple solutions that may or may not play well together. Table 1 provides a high-level summary of the results of this effort. Please note that this information is already 1.5 years old, so it may not be entirely current.
That there were relatively few combined CRM and MA offerings made the selection process easier. Online demos were very informative and strongly suggested. In the end, only one solution seemed to meet or exceed our list of must-haves: HubSpot. The primary differentiators were:
An intuitive interface
Native CRM and MA integration (not two different systems interfacing through the API)
A significant library of resources, including templates, training and third-party apps (such as Gmail, LinkedIn, Outlook, Slack, Twitter, WordPress, Zoom, and many, many others)
Best-in-class reviews
Salespeople who took into account our specific needs and were able to deftly present how the product could address them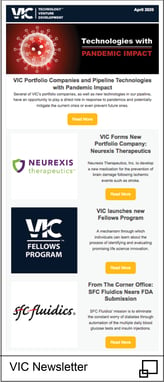 The lone negative identified during our screening was price, but this was addressed through the "HubSpot for Startups Partner Program" where organizations that incubate and support early-stage companies can access the product at greatly reduced cost for the first few years. Now that we've been using HubSpot for just over a year, I can say that our post-implementation experience has been overwhelmingly positive. From the CRM perspective, all our contacts are in the system and no longer live in separate Excel files or Outlook accounts. Overall, we found the CRM to be easy to implement and fine-tune for our specific needs, such as standardizing which data fields to include. We capture as much supporting information as possible, using the Notes, Email, Calls, and Tasks tabs for each record. Another added element of functionality is associating an individual (and/or their organization) with specific projects, such as Opportunity Assessment (see below).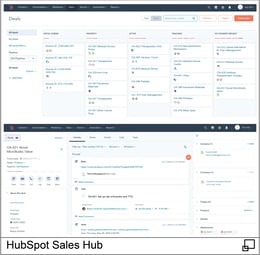 On the marketing automation side, our firm is a bit unusual in the investor space in that we have an exceptionally active marketing communications program, with the primary goal of creating awareness with the sources of innovation from which we create new companies (universities, institutes and national labs, regardless of location) and with prospective members of the VIC Investor Network. Since HubSpot started with a focus on MA, it wasn't a shock that this module is extremely robust.
A pleasant surprise was the Sales Hub module, which—with its highly flexible project management capabilities—has provided a huge benefit to our due diligence and deal tracking efforts, especially by a dispersed team. Stay tuned for a deeper dive into each of these subjects in future articles.
Document Repository
As a matter of practice, I would never recommend storing the bulk of your files in a CRM. First, it's not what they were designed to do, and second, it makes switching to another system very painful: Exporting data from a CRM is reasonably straightforward. Moving documents and the contextual information associated with them is not. Also, there is something to be said for having separate systems to create an added level of security (eggs in one basket analogy). Several options for dedicated document storage include Adobe Document Cloud, Box, Dropbox, Egnyte, Google Drive, and One Drive. We had already decided to adopt Dropbox for Business organization-wide, and accessing files stored in the system via HubSpot was a critical requirement. Although there are multiple third party methods of tightly integrating the two, we opted to use a more manual method by pinning a note at the top of each record with a link to the relevant Dropbox folder. We chose this approach in order to have more precise control of content creation and access in Dropbox, guaranteeing that only those who have permission can access sensitive information as dictated by the Dropbox admin. It's also worth noting that we use Dropbox across the organization beyond the HubSpot example. Some reasons why we selected Dropbox over the other options out there include:
Simplicity - Very easy to get started and use
Market Leader - From our non-scientific review, Dropbox seemed to be the most widely adopted cloud document storage system, giving us confidence that it would work well
Reliability - Fast file upload without affecting computer performance
Backup - Recover any deleted file within 4 months of deletion
Admin Control - Precise management of folder and file access
Flexibility - Ad hoc folders can be shared among group members and non-group members without admin support
Cost - Very competitive pricing and easy to add/remove users
Versatility - Integrates well with both PC and Mac file structures
Web Presence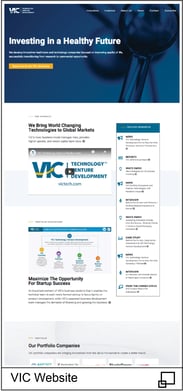 Core to our digital strategy is creating all of our websites—both the firm's and our portfolio companies'—based on a reusable WordPress template specifically designed to integrate with HubSpot. A big part of this is having all featured content such as whitepapers, interviews, case studies, news, etc., live on HubSpot blog pages so we can better capture the performance of these assets than would be possible if they were hosted in WordPress. Other added functionality, as described in the HubSpot App Marketplace, include:
Contact Management - Sync your contacts' emails and information to the HubSpot CRM where you can manage and segment your audience
Forms & Popups - Easily build forms and popups using the drag-and-drop builder and quickly publish them to your site (we use this feature for capturing newsletter signups, applications for open jobs, and general "contact us" inquires)
Live Chat & Chatbots - Chat with your site visitors and answer questions in real time (not a capability that we've activated, but definitely relevant for those who need a more responsive customer service and support option)
Simple Email Automation - Send an automated email when someone fills out a form or sends a message on live chat
Built-In Analytics. See which pages and traffic sources drive the most conversions so you can keep doing what's working and find areas for improvement (I wouldn't say that this is a replacement for Google Analytics, which provides much broader and deeper insights, but it is complementary and gives an easily accessible, high-level view)
Online Meetings / Telephone
As is the case for Document Repositories, there are countless online meeting platforms. My personal preference was Zoom, primarily because of the high audio and video quality without taxing the remote employee's bandwidth, as well as the ease of use, especially for external parties. The firm had previously used a combination of free conference call providers and GoToMeeting, but experienced issues with user experience and accessibility.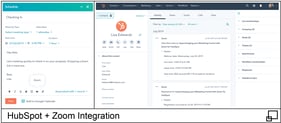 HubSpot offers native connection with Zoom, allowing integration with HubSpot meetings. The primary benefit of this feature is automatically making every meeting booked in the HubSpot CRM a Zoom meeting. You can also promote Zoom webinars with HubSpot workflows. For example, when someone registers for a Zoom webinar, they're created as a contact in HubSpot. HubSpot workflows send them automated event reminders, follow-up emails, etc. Finally, Zoom webinar attendance can be tracked in HubSpot, used to create lists based on Zoom webinar activities, and contact properties can be used to see when contacts register and attend webinars, as well as how long they typically stay.
In addition to the better-known online meeting product, we're also implementing Zoom Phone to replace our current VOIP system, gaining the added benefits of intelligent call routing and auto attendants, as well as listening to or reading transcribed voicemails on a computer or mobile device. Additional functionality includes:
Making and receiving phone calls, sharing content, participating in video meetings, and sending chat messages from Zoom desktop and mobile apps
Elevating phone calls to a Zoom Meeting without requiring participants to hang up and dial-in to a separate conference bridge
Native apps for Windows, MacOS, iOS, and Android are designed for ease of use while maximizing voice and video quality of service
Email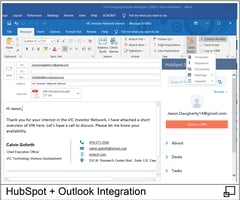 HubSpot integrates with Outlook on PC and Gmail on either PC or Mac. For example, in Outlook it allows you to track and log emails by simply selecting check boxes that are part of the menu panel. These can be defaulted as "on," i.e. track and log everything by default, or defaulted as "off," i.e. only track and log specific emails you select. Some of the HubSpot sales tools are directly accessible from the menu panel. When composing a new email message, the Outlook HubSpot add-in also provides essential background information from the CRM about the person to whom you are addressing your email.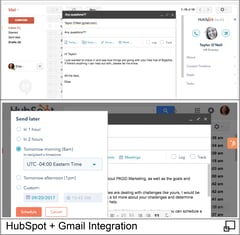 A significant downside with HubSpot is that it has not yet created an email connector for Outlook on Macs, only PCs. If your firm doesn't use Apple computers, then this isn't an issue. If it does, then you'll need to use G Suite for your company email, or—less optimally—employ an intermediate Office365 account to get partial functionality. However, for Mac users, the full spectrum of the email integration is most apparent with Gmail.
Integration: Maximizing Value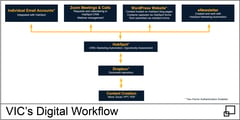 To be clear, creating an optimized digital strategy is a never-ending process, both in making the selected systems work together (and scale as our needs grow) through fine-tuning, as well as in evaluating new tools in the future that may enable even better outcomes. What has not been discussed so far, however, and likely the most important aspect of all of this, is process. Without buy-in by the entire organization, and the continuous self-discipline not to slide backwards towards the way things were done before, any investment in technology is worthless. A big part of our approach is consistently checking in with team members to make sure they're using Dropbox, HubSpot, Zoom and the other primary systems unfailingly.