Next Generation Closed Loop System Designed for Broader Type I Diabetes Patient Population
Fayetteville, AR - SFC Fluidics Inc., a medical device company focusing on drug delivery for treatment of Type 1 Diabetes, is pleased to announce that it has been awarded a $2 million Small Business Innovation Research (SBIR) Phase II grant to support advanced development of SFC's wearable Gemini™ Dual Hormone Artificial Pancreas Pod (Gemini-DHAP). The SBIR grant awarded to SFC Fluidics represents a significant milestone in the development of their dual hormone system as it will enable SFC Fluidics to obtain an IDE for the Insulin and Glucagon delivery system, which will allow SFC to begin clinical trials to support FDA approval.
To address the prevalence of hypoglycemia in T1D management, SFC Fluidics is pioneering the development of a wearable dual-hormone hybrid closed-loop system, which incorporates the glucose-elevating hormone, glucagon, in addition to the glucose lowering hormone, insulin. Although dual-hormone systems are not currently available commercially, research trials have demonstrated that dual-hormone closed-loop treatments are superior to insulin-only treatments in reducing time below range. The Gemini-DHAP will be especially important for patients living with Type 1 diabetes who are hypoglycemic unaware, including adolescents, and for patients who wish to exercise, but don't out of a fear of hypoglycemia.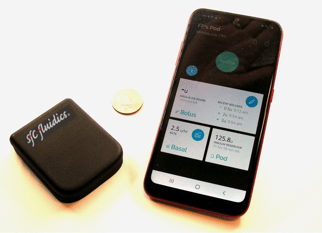 The Gemini Pod, the latest innovation from SFC Fluidics, builds upon the success of SFC's Panda Pod, which received a Breakthrough Device Designation (BDD) from the FDA. Leveraging the same enabling patented and patent-pending technologies, the Gemini-DHAP will offer improved accuracy over commercially available pumps and instantaneous delivery confirmation, which will mitigate the dangers of silent occlusions. It will control blood sugar using automated insulin delivery, but the Gemini-DHAP will be uniquely able to avoid or correct a low blood sugar event by automatically dispensing glucagon in response to blood glucose trends.
SFC Fluidics remains committed to pushing the boundaries of drug delivery and health monitoring, with a firm belief that their dual hormone system will revolutionize diabetes care and improve the lives of individuals managing T1D.
About SFC Fluidics, Inc.
With a mission to advance healthcare and enhance the quality of life, SFC Fluidics aims to become a recognized global leader in the drug delivery and health monitoring markets. The company's vision is to introduce unique product lines that improve lifestyle and affordability, ultimately transforming the way chronic diseases such as diabetes are managed. To learn more visit sfc-fluidics.com
About VIC Tech
VIC creates innovative new companies with world-changing science- and engineering-based technologies. VIC carefully selects and licenses technologies from universities and research institutions worldwide, then partners technology entrepreneurs with VIC's business and technology experts and allocates seed capital through the national VIC Investor Network. In addition, VIC provides its portfolio companies with senior management expertise, extensive knowledge of technology startups, and proven processes to execute business strategies, including legal, financial, operations, marketing, capital acquisition, and technology management. For more information, please visit victech.com