JDRF funding will advance integration of an insulin delivery pump with a continuous glucose monitor and a control algorithm into a single pod artificial pancreas.
FAYETTEVILLE, AR – SFC Fluidics, Inc. (SFC) has partnered with two companies, Diabeloop SA and PercuSense, Inc., as part of the Industry Development and Discovery Partnership that was awarded to SFC Fluidics in 2018 by JDRF.
JDRF is sponsoring this project for the development of a single integrated pod artificial pancreas (AP) system for people with type 1 diabetes (T1D). By accelerating the development of a next-generation miniaturized and user-friendly AP system, JDRF will further its goal of reducing the daily burden for people with T1D while improving their overall health outcomes. State-of-the-art AP systems such as this are especially important for children and young adults with T1D who want to achieve better outcomes while living as normal a lifestyle as possible.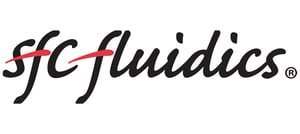 The AP system currently under development will consist of an insulin pump and continuous glucose monitor (CGM) that are housed in a single on-body pod. The pod will be controlled wirelessly via a proprietary closed-loop algorithm running on a handheld device. For the past year, SFC has focused on the optimization of its proprietary insulin pumping technology and platform. The key features of SFC's insulin pump include best-in-class accuracy and precision at very small dose volumes, a two-valve safety system, and a dispense confirmation sensor. PercuSense will contribute its cutting edge CGM that features calibration-free glucose detection. PercuSense is dedicated to the development of a simple inserter and low-cost manufacturing. Diabeloop, a pioneer in diabetes management, will contribute a machine-learning control algorithm to automate insulin delivery.
"We are very excited to work with excellent technical and business partners such as PercuSense and Diabeloop. We look forward to the challenge and opportunity of creating a fully automated, miniaturized, integrated AP system for patients with diabetes. Our system will simplify and improve efforts to enhance glycemic control and free people with T1D to lead a more active and carefree lifestyle," said Tony Cruz, CEO of SFC Fluidics, "SFC Fluidics is grateful for the opportunity granted by this collaborative funding from JDRF."
"Our mission at Diabeloop is to bring innovation to families affected by diabetes. Therefore, we are delighted to be part of this highly promising technological project and equally honored by JRDF support," commented Marc Julien, co-CEO of Diabeloop.
"We are very happy to see SFC making progress and establishing the partnerships necessary to make these next-gen automated insulin delivery systems a reality. By teaming up with leaders in the fields of continuous glucose sensing and insulin delivery algorithms such as PercuSense and Diabeloop, SFC is laying a solid foundation to maximize their chances of success and ensure high performance of these products," said Jaime Giraldo, Scientist at JDRF.
About SFC Fluidics, Inc.
SFC Fluidics, Inc. has a mission to advance healthcare and improve quality of life through our enabling microfluidic technologies. The company's vision is to become a recognized global leader in drug delivery, with a focus on insulin, where our unique product lines improve lifestyle and affordability. SFC Fluidics® is a VIC Technology Venture Development™ portfolio company. For more information, please visit sfc-fluidics.com or follow us on Twitter: @sfcfluidics.
About Diabeloop SA
Diabeloop is a young company developing disruptive technological innovations to automate the treatment of T1D. Created in 2015 in Grenoble by Erik Huneker and Dr. Charpentier, Diabeloop and CEA-Leti work within a joint research laboratory to accelerate product development. The company is co-managed by Marc Julien and Erik Huneker and employs approximately 50 people. Diabeloop received first round funding of 13.5 million Euros in 2017 and second round funding is ongoing. For more information, please visit diabeloop.com.
About PercuSense
PercuSense is focused on developing next generation continuous sensing platforms that enable prediction, intervention, and prevention in chronic diseases and acute conditions including diabetes management and in-hospital monitoring. PercuSense's unique technology enables low cost, glucose plus multi-analyte sensing to bring affordable and actionable continuous monitoring to the market while greatly improving usability through its integration into a single sensing and delivery site. For more information, please visit percusense.com.
About JDRF
JDRF is the leading international nonprofit fighting to cure T1D while also helping those with T1D live healthy lives today. Supported by hundreds of thousands of donors, JDRF raises, invests and drives more funds to T1D research than any organization in the world. As a result, JDRF has played a key role in major T1D advances – drug, device, cell research – that have improved lives and brought us closer to our ultimate goal of a cure. JDRF is mission-driven and serves as an aggressive advocate and educational support for the T1D community. JDRF has staff and volunteers across the United States, has five international affiliates, funds research in more than 20 countries and supports insulin-aid efforts in the U.S. and around the world. Visit jdrf.org to learn more.