Solenic accelerates their mission to treat patients suffering from acute or chronic prosthetic joint infections (PJI).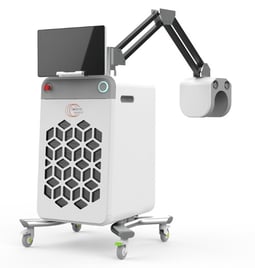 ADDISON, TEXAS – Solenic Medical, developer of a device that uses alternating magnetic fields (AMF) to treat a prosthetic joint infections (PJI) announced today it has raised a $5.1 million Series A funding round. The syndicated round was led by Johnson & Johnson Innovation – JJDC, Inc., and joined by other major medical device investors such as ShangBay Capital and Highpoint Ventures. The patent-pending technology offers a complete non-invasive approach for the eradication of biofilm on metallic implants for the treatment of PJI. Initially targeting the metallic components of knee implants, this product is the first in the company's pipeline of treatments for most metallic medical implants including knees, hips, elbows, trauma devices and more.
James Y. Lancaster, CEO of Solenic Medical, said, "Our team has been working diligently to prepare this technology for patient treatments. The AMF technology meets a significant need for non-surgical alternatives for patients suffering from chronic or acute PJI that risk their mobility. As patients live longer with their artificial joints, the chance of infection has increased along with the number of patients having multiple implants in their lifetime."
Each year in the United States, almost two million total knee and hip replacements are performed, and these operations are projected to increase up to four million by the year 2030. These infections are one of the most serious complications in the field of arthroplasty. Currently, treatment of PJI can involve a two-stage revision requiring two additional surgeries and weeks of antibiotic treatment. While it can be effective, the two-stage revision procedure has a high failure rate over 30%. These procedures pose significant morbidity to high-risk patients, is associated with a negative impact on quality of life, and is very expensive often costing over $150,000. The projected total annual cost to treat patients with PJIs in the U.S. in 2023 is a staggering $2.5 billion, representing a major cost to the healthcare system. The challenges are even greater for open wound trauma patients with a typically high infection risk over 30%.
A major impediment to effective treatment of PJI is the presence of biofilm, a thin film produced by bacteria that forms a protective shield around the joint and impairs the effectiveness of both antibiotics and the immune system. Biofilm is associated with infections of many widely used medical implants such as catheters, mechanical heart valves, intrauterine devices and trauma implants as well as prosthetic joints. The inability to eradicate biofilm is the primary reason that surgical replacement of an implant remains the standard of care for the treatment of PJI and other implants such as trauma plates and rods.
James Y. Lancaster, CEO of Solenic Medical, said, "This round is a key step in this year's path to human studies in early 2024. Another key step underway right now is a final large animal trial to demonstrate the health of bone cells after a treatment. Thanks to our FDA Breakthrough Device designation we expect rapid progress to treat knee implant patients suffering from PJI in early 2024."
About Solenic Medical, Inc.
Solenic Medical, Inc. is a medical device company founded to develop and commercialize a method for treating prosthetic joint infections (PJI). Solenic will leverage the unique properties of alternating magnetic fields (AMF) generated from external coils to eradicate biofilm on the surface of medical implants. This non-invasive treatment addresses a major complication of various surgeries, such as knee and hip replacements, as well as in trauma related implants such as plates and rods. This is particularly important given an aging population and the rapid increase in the number of these procedures being performed every year. For more information, please visit www.solenic.com