Solenic Medical participated in the 2021 Texas A&M New Ventures Competition (TNVC) held live at Texas A&M University after being held virtually in 2020. Twenty-one companies were invited to participate May 19-20 for hundreds of thousands in startup funds during live rounds of pitch competitions and judging out of over ninety applicant companies from around the state.
Solenic won recognition with the award of three prizes worth $37,000, including:
Southwest Pediatric Device Consortium Prize $25,000
Paragon Innovations Prize $10,000
Elevator Pitch 3rd Place Prize $2,000
James Y. Lancaster, CEO of Solenic Medical, said, "It was good to present Solenic Medical's technology to a live audience for the first time in over a year since the pandemic started. Since then, we have made great progress, including receiving an FDA Breakthrough Device Designation, developing our simulation capabilities, and receiving a $1.3M NIH grant. We've been quite busy and have just started our large animal trials, so further great things are ahead of us."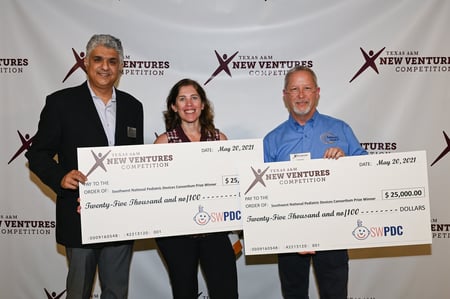 Each year in the United States, over 1.5 million total knee and hip replacements are performed, and these operations are projected to increase by 637% and 174%, respectively, by the year 2030. Prosthetic joint infections (PJI) are one of the most serious complications in the field of arthroplasty. Currently, treatment of PJI can involve a two-stage revision requiring two additional surgeries and weeks of antibiotic treatment. While it can be effective, the two-stage revision procedure has a high failure rate, poses significant morbidity to high-risk patients, is associated with a negative impact on quality of life, and is very expensive. The projected total annual cost to treat patients with PJIs in the U.S. in 2020 is a staggering $1.6 billion, representing a significant cost to the healthcare system.
A major impediment to effective treatment of PJI is the presence of biofilm, a thin film produced by bacteria that forms a protective shield around the joint and impairs the effectiveness of both antibiotics and the immune system. Biofilm is associated with infections of many widely used medical implants such as catheters, mechanical heart valves, intrauterine devices, and prosthetic joints. The inability to eradicate biofilm is the primary reason that surgical replacement of an implant remains the standard of care for the treatment of PJI.
About Solenic Medical:
Solenic Medical, Inc. is a medical device company developing an innovative non-invasive treatment for infected metallic implants in the body. Using technology invented at the University of Texas Southwestern, Solenic is leveraging the unique properties of alternating magnetic fields (AMF) generated by external coils to eradicate biofilm on the surface of metallic implants. This non-intrusive, non-contact treatment addresses a major complication frequently associated with various surgeries such as knee and hip replacements and orthopedic trauma cases requiring plates, rods, and/or nails. The technology is particularly important and timely given the rise in the aging population, longer life expectancy, and the rapid increase in the number of orthopedic procedures being performed every year. Solenic's AMF technology has been designated a Breakthrough Device by the U.S. FDA. It has the potential to completely replace the costly and risky two-step revision surgical procedure, which is the current standard of care for chronic infections on medical implants. Solenic Medical, Inc. is a VIC Technology Venture Development™ portfolio company.
About the Texas A&M New Ventures Competition:
The Texas A&M Engineering Experiment Station, Texas A&M Innovation Partners, and the Texas A&M University System and sponsors are working with the entrepreneurial ecosystem throughout the state to ensure today's innovative ideas become a reality through the Texas A&M New Ventures Competition (TNVC). Aimed at promoting the commercialization of emerging technology, the competition recognizes companies with high-growth potential. It provides seed funding to help them effectively execute their ideas and advance product development. The Texas A&M New Ventures Competition is open to all Texas-based companies seeking to bring new or enhanced technology to the marketplace. Participant companies must be technology- or science-focused independent ventures in the pre-seed/seed, startup, or early growth stages.