VIC adds another esteemed health care veteran to Board.
Fayetteville, AR - VIC Technology Venture Development has announced the appointment of Ajay Gupta, who brings 30 years of executive healthcare experience, to its Board of Directors. Ajay's global experience across multiple healthcare segments will help VIC continue to grow its portfolio of companies that are creating breakthrough medical devices, diagnostics, and lifesaving therapeutics.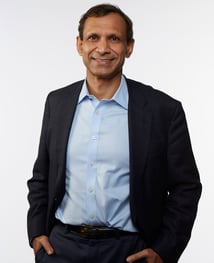 VIC CEO Calvin Goforth said, "We are extremely fortunate to have Ajay join our Board. Ajay will be able to draw on his vast life science experience to bring insights that help guide VIC's strategy and his strong relationship network will help us identify key resources for our portfolio companies."

Ajay is Senior Partner Emeritus at McKinsey & Company and led the Midwest Healthcare and North America Medical Products Practice. He worked extensively on strategy, growth and innovation topics across many organizations. He is also a Director at BJC Healthcare, Healthium Medtech, OnPoint Surgical, and on the advisory Board of RAND Health and Innovaccer, as well as an advisor to several other private healthcare and technology companies. Ajay is also an active private investor.
"The pace of healthcare innovation continues to accelerate. VIC has a unique model of harnessing promising early technology from universities and research labs and successfully developing them. I look forward to supporting Calvin and the team in this endeavor." says Ajay.
About VIC Technology Venture Development
VIC's unique investment model sources innovation directly from universities across the nation, offering funding to form new start-up companies and advance these technologies. In addition to the initial capital, VIC provides its portfolio companies with business and scientific resources, including interim management, accounting, marketing, engineering support and more. For more information, please visit victech.com.