The VIC Fellows Program was created in late 2019 as a mechanism for individuals with specific expertise to learn about and be involved in identifying and evaluating promising life science innovations from universities, institutes, and national labs around the world. We are pleased to highlight the members of the 2020 class of fellows, including this interview with Natalie Gassman.
Will you please tell us a little bit about yourself and your background?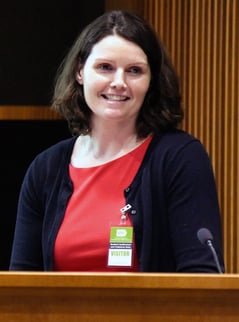 I received a chemistry degree from Michigan State University, where I was also a member of the Women's crew team. I received my PhD from the University of California, Los Angeles, where I used single-molecule biophysics to study bacterial transcription initiation. While at UCLA, I was awarded a Chemistry and Biology Interface training grant. This grant allowed me to participate in the RAND summer associates program, where I looked at trends in global technology development. After my PhD, I received postdoctoral training at Wake Forest University and the National Institute of Environmental Health Sciences. This is where I began my focus on DNA repair and environmental toxicology. I was awarded a K99/R00 pathway to independence award to start my position at the University of South Alabama, where I currently am an assistant professor.
Please tell us more about your research on DNA repair?
My research focuses on how environmental agents induce DNA damage and modulate the response of DNA repair machinery. We have shown how endocrine-disrupting chemicals alter DNA damage response promoting the retention of mutagenic lesions within the DNA. We also demonstrated that endocrine-disrupting chemicals lower the efficiency of chemotherapeutic agents. Parallel to these efforts, we also have developed a versatile DNA damage detection method to identify DNA repair defects that give cancer cells a survival edge. Our team is trying to find the magic formula – how much DNA damage you have and how you will respond to treatment. We see it as a way to personalized medicine for your genome and your exposure history.
What are the emerging trends in that you're seeing in your field as well as in the larger life science sector as a whole?
Two critical areas that have become increasingly important to DNA repair and environmental toxicology are metabolic changes and immune modulation. In studying e-cigarettes, we have identified metabolic changes that impact mitochondrial function and reduce a cell's ability to produce ATP. Some of the changes we have observed are similar to high fructose diets and diabetes but occur at a much faster pace. Changes in cell metabolism can increase obesity and inflammation, but they can also decrease cognition and have long term mental health impacts. Immune response also can be triggered by DNA damage, and several recent studies have highlighted how DNA damage response and repair pathways can alter the efficacy of immune drugs, particularly in cancer. Immune surveillance, and even the generation of antibodies, relies on DNA repair proteins, and we are just beginning to appreciate the interplay between these systems.
What is it about the VIC Fellows Program that piqued your interest?
Universities are emphasizing more and more the importance of creating translation products that can be licensed or patented. However, there is a significant educational gap in how you create a product and then successfully transition it to market. The VIC Fellows Program was very appealing because it offers an opportunity to become educated about the critical transition from viable ideas to marketable products. I saw this as an opportunity to understand the needs of the marketplace, the desires of investors, and the shortcomings of technologies. I hope to use this training to improve my idea generation, but also get the experience needed to help others transition products to market.
When evaluating a new technology, what are some key factors that you look for?
I am drawn to technologies that use innovating engineering or designs to overcome current challenges in different fields. For example, theranostics like DNA structures that can target compounds and act as controlled delivery devices. Or novel combinations of filters or separation techniques that improve workflows. There are many unmet needs in health and therapeutics and many worthy technologies, but simple and elegant solutions to problems are always appealing.
As an Assistant Professor at the University of Southern Alabama College of Medicine, how would you describe the current life science innovation ecosystem in Alabama and the southeast US overall?
I think Alabama is truly undeserved and overlooked in these areas. We have BioAlabama promoting innovation statewide and several developing innovation portals within Mobile itself. However, the landscape for developing life science products and the education and networking resources to move an idea off the ground often are lacking. Louisiana and Georgia have more fully embraced life science innovation, but Mississippi and Alabama are falling behind. I think there are unique opportunities to take advantage of local and state tax breaks and incentives, and also the very diverse workforce available within Alabama. Hopefully, we will see more companies seeing the potential in our area. The internet has made education and resources more accessible to rural areas, but there still needs to be advocates to attract people to the life sciences.
How can universities and their research staff (faculty, postdocs, graduate students, etc.) be more translationally-minded and improve the applicability/relevance of their innovation to global healthcare?
Internship programs like VIC's and government-sponsored programs like I-CORPS are essential to showing students and researchers the commercial landscape and the possibilities for their ideas. I think graduate students and postdoctoral fellows are an untapped resource for creative ideas and problem-solving. They rely on their mentors to teach them and show them opportunities, but senior researchers may not appreciate the value of innovation or translation. I think targeting these individuals could help improve scientific retention within the US. Cash prizes, innovation weeks, targeted conference participation all can help get the word out. Also, more emphasis on tech transfer as a career and resource could also help.
Other topics you would like to discuss?
I have really enjoyed my fellows experiences so far, and I am excited to implement the things I learn in my own state and department.