The VIC Fellows Program provides an opportunity for individuals with relevant expertise and interest to learn how to identify and evaluate promising innovations from global sources. We are pleased to highlight the members of the 2021-2022 class of Fellows in our ongoing series of interviews, such as this recent discussion with Cristhiaan Ochoa, MD, PhD.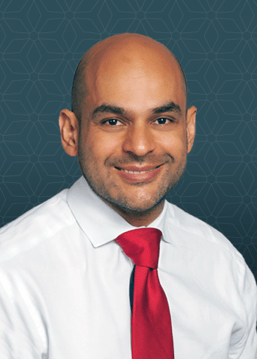 Please tell us about your educational and professional background.
I am an attending physician and assistant professor in pulmonary and critical care medicine at John Peter Smith Hospital in Ft. Worth, TX. I have academic appointments in the departments of Internal Medicine at UT Southwestern Medical Center and the University of North Texas Health Science Center, as well as Texas Christian University Medical School. As a reservist, I serve with the 349th Aeromedical Staging Squadron based on Travis Air Force Base in Fairfield, CA. I am a member of their Critical Care Air Transport Team better known as CCATT. I also have a research doctorate in lung biology and postdoctoral training in lung cellular and molecular biology. Therefore, I have 10+ years of basic research science experience in addition to my civilian and military medicine background.
You are a practicing physician with military reserve commitment, yet added your role as a VIC Fellow. Tell us about that decision.
Even though medicine – civilian or military – is an intellectually and physically challenging undertaking (which is excellent), it is not a creative endeavor. For some of us that have an innate desire to be creative and original, the practice of medicine can be frustrating at times. This is not to say that medical problem-solving does not require ingenious solutions because it does. However, as a pulmonologist and intensive care medicine physician, I cannot get creative with the antibiotics I use on my patients or how I perform specific procedures. That could be catastrophic. The decision to apply to the VIC fellowship stemmed from a craving to use both my medical and scientific training in creative ways and an honest desire to better understand the business side of medical science.


What do you enjoy most about practicing medicine?
When I complain that medicine limits your creativity, people misunderstand that as me saying I dislike it, which is not true. The last two years have been incredibly taxing on my specialty, and there are colleagues of mine who have clearly burned out. To me, however, COVID-19 reinforced my love for the profession as I felt perfectly positioned to make a significant contribution to the pandemic effort.
I spent the last 20 years studying the lungs at the bench and at the bedside (from lung vascular biology and lung mechanics to lung infections), and this pandemic brought those worlds together. For example, while taking care of patients with severe COVID-19, I am in discussions with my colleagues at Nob Hill Therapeutics (a VIC portfolio company where I serve as their Chief Medical Officer) on ways to use our dry-powder nebulizer technology to improve outcomes of patients with COVID-19 acute respiratory failure that are on mechanical ventilation.
What motivated you to apply to the VIC Fellows Program and what have you gotten out of this experience?
As I said previously, the motivation to apply for the fellowship came from seeking an avenue to express my creativity and better understand the world of medical technology and therapeutics in the context of venture capital, entrepreneurship, technology development, and technology commercialization. The VIC team, in general, and my mentor, James Lancaster, in particular, have absolutely delivered on the above and made this fellowship one of the most transformative experiences of my life. I will always be profoundly grateful for this opportunity.