The VIC Fellows Program provides an opportunity for individuals with relevant expertise and interest to learn how to identify and evaluate promising innovations from global sources. We are pleased to highlight the members of the 2022-2023 class of Fellows in our ongoing series of interviews, such as this recent discussion with Danielle France, PhD.
Tell us a bit about yourself: Your education, experience, interests, etc.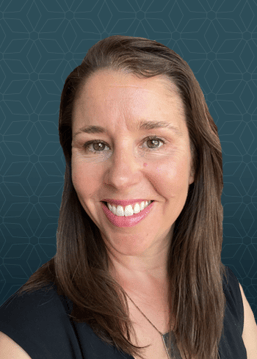 I did my undergraduate and graduate degrees in bioengineering and have worked in a few different fields that may seem unconnected but have all involved basic microbial physiology. I've worked on fundamental cellular spring motion, microbial methanogenesis, corrosion of steel in ethanol fuels, and diagnosis of urinary tract infections. I like seeing all the different ways microbes impact our health and environment, and thinking about how we can work with and engineer their behavior for useful things.
I've been lucky to live in Colorado for 15 years and I love being outdoors here for running, biking, hiking, camping, and skiing. I can visit four different mountain trail systems from my front door in Golden CO. My husband and I have two boys, ages 10 and 12, so we are rapidly changing from being their outdoor guides to just trying to keep up!
What made you decide to become a VIC Fellow?
I have been interested in how to take technology out of the lab and into the market for a long time, and I got to live it first hand when forming my own company (Microbial Pulse Diagnostics) from NIST technology. But I know there is huge variety in that initial formation pathway so I wanted to see it iterated at least a few more times by helping source opportunities and form companies within VIC. VIC also has a pretty unique model and I can see many advantages to it, so wanted to see it in action!
Are there specific trends in life sciences that you're tracking?
I got to work on an early large-scale sequencing project of anaerobic microbial communities so I've had my eye on microbiome research and applications since then. The science side went through rapid expansion in the last decade so I think it could be time that we see some meaningful products as a result. I'm also curious to see how microbiome science starts to impact in vitro diagnostics, which have always relied on highly reductionist methods that are falling short in many diagnoses.
Being based in Golden Colorado, are there regional/local strengths you'd like to discuss?
I think we build strong communities in Colorado around any of our professional fields. Biotech is a smaller community here than it is on the coasts but we have staying power and people know each other and stay connected.
You recently joined the National Renewable Energy Laboratory (NREL) as Investor Network & Industry Growth Forum Strategy Lead. Tell us more about NREL and your role there.
I work in a pretty unique group for a national laboratory - the Innovation and Entrepreneurship Center at NREL. We are primarily external facing from the lab and we work to help startups succeed in the climate tech space. We have programs that provide startups with technical help within the lab to de-risk their technology. We also run events that convene startups and the investment community to get deals flowing - the main part of my job is building content for these events.
Our readers would love to know more about your experience as a co-founder & CEO of Microbial Pulse Diagnostics.
Microbial Pulse Diagnostics started as a project at NIST to see if we could use resonating quartz sensors to pick up nanoscale movement from bacteria, and how that movement changes with different interventions like antibiotics. It worked, and we saw its promise as a real-time (<2 hours) test for antimicrobial susceptibility of urinary tract infections, testing that currently takes 2 days. I started the company in 2017 with my colleague Fred Walls, a long-time NIST physicist, and we built it for 3 years on non-dilutive funding. It was a phenomenal growth and learning experience for me, going from being a lab scientist to a company CEO. I would do it again with the right opportunity.
What insights can you share with other female life science entrepreneurs?
Don't be afraid to push just a little more for the opportunities you need to establish your career. You are your best advocate, so practice what your message is around what you want to achieve and communicate it at every chance.
Where do you see yourself in the next 5-10 years? How will your experience as a VIC Fellow support this?
I'd like to continue supporting startups and possibly forming them. Working as a VIC fellow will give me a broader view on the variety of ways technology makes it to the market. Somewhere within the next 10 years, I hope I can bring my work in biotech and microbial physiology to impact issues in sustainability and climate.
Please feel free to add other topics
Random fact: I have been to all 50 US states, and have lived in 8 states, plus two other countries: Australia and Germany.