The VIC Fellows Program provides an opportunity for individuals with relevant expertise and interest to learn how to identify and evaluate promising innovation from global sources. We are pleased to highlight the members of the 2021-2022 class of fellows in our ongoing series of interviews, such as this recent discussion with Evan Goldberg, PhD.
Please tell us about yourself and your background.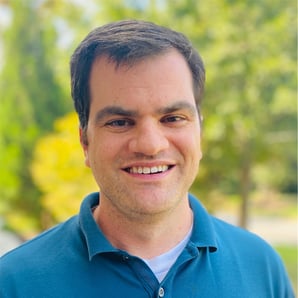 I have a background in Mechanical and Biomedical Engineering. I completed my undergraduate work at the University of Texas at Austin in Mechanical Engineering and completed a Masters in Mechanical Engineering with a focus in Biomechanics. I then took a job at the UCLA Center for Cerebral Palsy to manage their gait and motion analysis laboratory. At UCLA, I was able to see patients with musculoskeletal disorders firsthand, analyze their movement and work with a great interdisciplinary team of clinicians to recommend treatments. Eventually, I continued that work and enrolled in the Biomedical Engineering PhD program at UCLA. After completing the PhD program, I came back home to Atlanta to work for a preclinical CRO called T3 Labs. I worked as a Study Director for about 10 years and currently lead program management and business development for the preclinical service line. About 5 years ago, T3 was acquired by the Global Center of Medical Innovation (GCMI, a Georgia Tech affiliate), which works with academic investigators, entrepreneurs, and medical device companies to accelerate the development, testing and commercialization of innovative medical products. Since the acquisition, I have served as the academic liaison working closely with academic researchers to get their ideas out of the lab and into the market through GCMI resources. I've worked with many early stage investigators starting with just an idea all the way up to multinational Fortune 500 companies with a portfolio of devices that need testing. While my background is in orthopedics, I've worked with technologies covering many therapeutic areas including cardiovascular, urology, regenerative medicine, and gastroenterology. Most of my experience has been in the medical device space, but I've also been involved in the evaluation and testing of therapeutics, stem cells and pharmaceuticals.
Your position at the Global Center for Medical Innovation in Atlanta has provided you a broad view of technologies at the pre-clinical level. What are the core competencies/areas of technical/therapeutic focus at the organizations you work with?
On the preclinical side, we work in 11 therapeutic areas including, but not limited to, intervential cardiology, structural heart, orthopedics, urology, neurology and gastroenterology. The bulk of our work is in medical devices, but we've worked with pharmaceuticals, therapeutics and cell-based technologies that are delivered to the test system via a surgical or interventional approach. Irrespective of the therapeutic area, our core competency is the process by which a medical device or therapeutic is tested preclinically. We are a GLP-compliant CRO with an excellent track record with the FDA. While it's important to know the therapeutic area, it's just as important to be experts in the process of evaluating medical products in a GLP setting so that reports submitted to the FDA supporting safety and efficacy objectives get through the clearance or approval process with no questions asked.
On the product development side, we've worked with all sorts of medical devices ranging from simple Class I devices to complex life-saving Class III implantable devices. We've worked with PPE, diagnostics, orthopedic devices and 3D-printed implantable devices to name a few. We have expertise in a lot of areas, but we also have a wide network of external collaborators that we can bring in to speak to most technologies. Similar to the preclinical side, it's the process by which medical devices commercialized that's our core competency. We can serve as a manufacturer of record for medical products regulated by the FDA, which is essential for academic faculty members developing devices in their labs, and we can perform all of the steps from Phase 1 to Phase 5 of medical product development in a compliant environment.
What insights have you gained from your experience about the potential for early-stage technologies to move forward successfully?
It takes a lot more than a great technology to move forward successfully. There obviously needs to be a clear market need, and the technology is solving a problem that needs to be solved. I've seen technologies that aren't successful in which the technology happens to solve the inventor's problem, but it's not necessarily broadly applicable to a larger market. The team itself is also important. Successful teams typically have a track record of success and understand what it takes to bring a product to market. I have seen some less experienced teams become successful, but those teams know what they don't know and are willing to bring in someone from the outside to help when needed. Understanding your regulatory pathway early on is critical. How your device is classified and the associated regulatory pathway will dictate what testing is required to bring your product to market. This could include bench testing, preclinical testing and even clinical trials. Being aware of these steps early in the process allow investigators and entrepreneurs to more accurately estimate the cost and timeline associated with their technology. Surprises with time and money can easily chase away investors and leave a good technology without a path forward.
What are the primary challenges facing the advancement of university-driven innovation towards products with real-world impact?
The "valley of death" is a real thing. There are a lot of resources available to fund the advancement of biomedical discoveries, but limited resources to fund commercialization activities. Industry now looks for de-risked technologies to acquire rather than licensing early-stage technologies from universities. This leaves a large gap between where faculty members can reasonably get with the time and resources they have and where they need to be to make the technology appealing to industry. Activities like implementing a quality system, building a design history file and performing biocompatibility testing are essential in medical product development, but not activities that make a grant application more appealing to fund. Furthermore, faculty members are typically working on the cutting edge of innovation. They aren't developing "me-too" products where you just have to show substantial equivalence to get FDA clearance. They are developing products that need clinical trials, so the commercialization path is increasingly honerous.
What insights do you hope to gain from the VIC Fellows program that may help you recognize the potential for commercialization success?
I hope to learn the perspective of the life science investors. I want to gain more insight into what makes a technology investable, and what the early indicators in technologies and teams are that predict future success. Specifically, I'd like to learn more about evaluating intellectual property, evaluating the addressable market and gathering subject matter input.
Being armed with this knowledge would put me in a great position to better identify technologies at the university that have a high probability of commercial success and work with those faculty members to bring their technologies thorugh the commercialization process.
Which life science trends excite you most to see coming to fruition?
About 10 years ago, I attended the American Academy of Orthopaedic Surgeons (AAOS) annual meeting. Looking at the massive booths in the exhibit hall, I saw nothing but metal implants being displayed. Plates, screws, joint replacements, spinal cages and more. Since then, there's been a trend towards tissue and cell-based products, biologics and even technologies that harnessing the body's own potential to cure itself. This isn't limited to orthopedics as you see these technologies in all of the therapeutic areas. Amniotic membrane tissue are being used for wound healing, stem cells are being used to treat heart disease, and mRNA is being used to deliver vaccines. It's fascinating to watch these technologies become more commonplace.
Do you see yourself becoming an entrepreneur or wanting to be best positioned to promote entrepreneurship?
I would want to be best positioned to promote entrepreneurship, and my position at GCMI puts me in a great place to do so. Particularly in today's industry where large companies grow by acquisition and start-up companies look for exits. GCMI can augment start-up companies by providing the resources needed to commercialize medical products on an as-needed basis. The VIC Fellows program is providing me knowledge to be more valuable to the groups that I work with.
With your experience in the Atlanta life science ecosystems, what do you see for the future of health innovation in GA?
Atlanta truly has all of the pieces in place to be a hub for medical innovation. There are top tier universities performing cutting edge biomedical research, world class hospitals and a life science industry sector that continues to grow. Historically, it's been hard to keep medical innovation in Atlanta with people and industry leaving for the Bay Area and Boston; however, Georgia Tech is investing in real estate in midtown Atlanta to allow for life science companies to use shared resources, collaborate and grow. GCMI is positioned to help put all of the pieces together and acceleration medical innovation in Atlanta and the southeast. In the near future, I see a thriving life science community where companies out of Georgia Tech and Emory stay local and grow.
What is the synergy between VIC and emerging life science ecosystems like Atlanta?
There's no shortage of great technologies at top-tier universities like Georgia Tech and Emory. Faculty members are excellent at performing high quality research and being awarded grant money to fund research activities evaluating these technologies. Resources to bring a technology out of the academic lab and down the commercialization pathway are much harder to find. Obviously funding of commercialization activities is important, but having an experienced team like that of VIC is integral in being able to increase the likelihood of commercial success. Ten years ago, the medtech industry was more likely to license an academic technology and bring it down the commercialization pathway themselves. Now, industry is looking for fully de-risked technologies, possibly with FDA clearance or approval and are willing to pay a premium for it. The real question for academic faculty members is how to move a technology this far down the road while keeping their day job of running a research program, mentoring students and teaching classes. VIC can provide an experienced team who knows what it takes to get a product across the finish line and the financial resources to go along with it, while the inventor can continue to do what they do best by consulting on the technology itself. Instead of having promising technologies leave Atlanta for the Bay Area or Boston, VIC could provide resources to grow the Atlanta ecosystem.