The VIC Fellows Program provides an opportunity for individuals with relevant expertise and interest to learn how to identify and evaluate promising innovation from global sources. We are pleased to highlight the members of the 2021-2022 class of Fellows in our ongoing series of interviews, such as this recent discussion with Gurshagan Kandhola, PhD.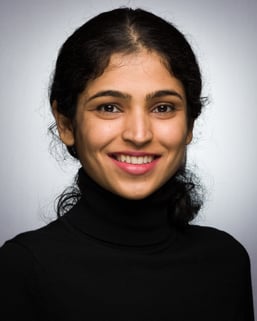 Please tell us about your educational and professional background.
I am a Postdoctoral Fellow at the University of Arkansas and Co-Founder/CTO at CelluDot. At CelluDot, we are commercializing a nanocellulose based adjuvant technology for use in the agrochemical sector, specifically to reduce the off-target movement (or drift) of common commercial herbicides (ex. dicamba). I first got interested in Biotechnology in high school when I took this up as an elective subject and was fascinated by the wide-ranging applications of genetic engineering. Through various research projects and internships that I was a part of during my bachelor's, grad school and postdoc, I worked across multiple disciplines of Biotechnology, such as forensics, vaccine production and quality control, development of food products and optimization of biobased processes, extraction and characterization of bionanomaterials, etc.
What drew you to apply to VIC fellowship? What are you hoping to get out of this experience?
From talking to potential customers to identifying product-market fit and effective go-to-market strategies to writing business plans, federal grants and pitching technologies to investors, I learned a lot about the process by participating in the New Venture Development program at the University of Arkansas, starting my own company and doing a fellowship with Startup Junkie's Science Venture Studio program.

What drew me to VIC is its focus on commercializing life-science technologies and the excellent team at VIC that's bringing these high-impact technologies to market. From researching different topics to writing articles for the monthly newsletter to gradually understanding what to look for when evaluating the commercial potential of early-stage technologies, it's been a great learning experience for me. I've developed a deep appreciation for VIC's unique opportunity assessment and due diligence process, which is as professional, holistic, democratic, objective and unbiased as it can get. From the pool of technologies that I'm bringing forward for internal assessment by team VIC, my goal is to get at least two technologies (one medical device and one therapeutic) to become the foundation of newco investments.
As you're just getting started in your professional career, what are your long-term goals and where do you see yourself in 5-10 years?
My postdoc is concluding soon, and I'd like to get my startup CelluDot to a successful exit in the next couple of years. In the short term, I want to continue working in the bio/food/agtech startup space and put my scientific research & communication skills to use. But, in the long-term, I see myself doing one of these things - A) As an entrepreneur, commercializing a technology that promotes circular economy and makes the world a more sustainable place, or B) working in the science and technology policy space, where scientists & engineers engage with academia, industry and mainly the government to form evidence-based policies and build innovation-focused ecosystems for the best of public health and national security.
What attributed should prospective applicants have to thrive as a VIC Fellow? Would you recommend the Fellows program to others and why?
Being adaptive and open to learning are the most important attributes you need to be a successful fellow. Whether or not it's a technology that you are directly involved in, one must listen closely to the viewpoints of each team member, particularly if they are different from your perspective. Unlike other fellows in my cohort, who have first-hand clinical and/or drug/device development experience, I come from a different background and initially found it hard to find my footing in the ecosystem. However, a supportive environment provided by the VIC team, as well as all the other fellows in my cohort who are exceptional at what they do, is what has allowed me to bloom. For me, it's been an excellent opportunity to work with the best minds, experts, innovators, entrepreneurs and thought leaders of the world, who've expanded my scope of thinking and pushed me to get outside my comfort zone. If you are someone who wants to understand what it takes to commercialize a life-science technology, I'd encourage you to apply to this program, especially PhD students and postdocs who are figuring out their next steps.
What life-science trends are you most excited about?
The pandemic has pushed us to work remotely and accomplish so much from home, which is something we couldn't have imagined doing two years ago. A large part of research and innovation in the life sciences sector will always have in-person involvement; however, I see parts of experimentation getting much more automated and digitized in the future. For example, initial computational stages of drug discovery and medical device design are probably already occurring remotely. Still, the day is not far when you'll be able to run instruments like PCRs and HPLCs, which are key in the scientific research process, remotely as well. I hope it will enable scientists and innovators to make better use of their time and accomplish more while reducing the probability of human errors.

One trend that I hope becomes more mainstream is the medical device industry (large and mid-sized companies and smaller startups) taking sustainability metrics, besides customer benefits & investor attractiveness, into consideration. Positive impacts on human health and the environment don't have to be mutually exclusive. It's all about thinking creatively to find an overlap between investor returns and environmental health. These can range across the product's lifecycle, from selecting eco-friendly materials in device design to reducing waste during their manufacturing, packaging and distribution, and usage and disposal.

Third, I believe mRNA technology could have a big role in the healthcare industry in the future. We've seen its effectiveness with vaccines, but it also has excellent potential to treat cancer, heart disease and many other health conditions. It will be interesting to see which area becomes the next big adopter of this technology. Lastly, in addition to bringing technologies to market in the US, I believe the prospects of success (both in terms of market adoption of new technologies and investor returns) are high in developing economies. The developing world right now is what the US was 30-40 years ago. In countries such as India, VC activity is at an all-time high (and is projected to keep increasing in the future), and innovation in the life sciences sector has been steadily rising. During the pandemic, India played a significant role in developing and manufacturing COVID-19 vaccines and testing kits, etc. While India's R&D and manufacturing capabilities could be useful for strategic partnerships in drug development and production, the market opportunity here is large (and ripe) for innovative medical devices and diagnostic technologies. I believe this could be a good opportunity for VIC, and in general life-science investors, to investigate and capitalize on.