The VIC Fellows Program provides an opportunity for individuals with relevant expertise and interest to learn how to identify and evaluate promising innovation from global sources. We are pleased to highlight the members of the 2020 class of fellows in our ongoing series of interviews, such as this recent discussion with Kirt Gill, MD.
Can you please tell us about your background?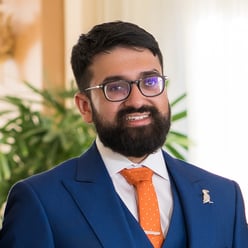 I completed my MD at the Keck School of Medicine at the University of Southern California. I moved to Dallas soon after to begin a Clinical Scientist research residency in Radiology at the University of Texas Southwestern. There, I completed a year of residency training and a year of research, primarily on the application of Focused Ultrasound in opening the blood brain barrier. During my residency, I had the opportunity to get involved in the world of medical device startups through my work with Solenic Medical, a VIC portfolio company, and realized my passion for entrepreneurship. I made the decision to leave residency in 2020 in order to join the Biodesign innovation program at the Texas Medical Center, where I am part of a three-person team dedicated to forming a new medical device startup within one year.
How did your experiences before going to medical school influence your future plans?
The period of my life from college until starting medical school was an adventure. The diverse experiences widened my world view and helped me build a unique skill set that I still draw on today. I completed my undergraduate education at the University of California Berkeley, where I double majored in Classical Civilizations and Molecular Biology with a focus on Neuroscience - an interesting mix of history and life science. At the time, medical school remained a possibility, but I wanted to explore other avenues. After graduation, I obtained my EMT certification and went on medical missions overseas in Kenya, but also did many odd jobs outside the world of medicine, including working as a graphic designer at a start-up in Silicon Valley, a grant-writer and organizer for an NGO, and even hosting a regular YouTube show. I think the diversity of those experiences laid the groundwork for my interest in entrepreneurship. I enjoy new challenges and new experiences, especially with a chance to improve people's lives.
What life science trends excite you most to see coming to fruition?
In the last year, telemedicine networks have expanded as a necessity due to COVID-19. But beyond the pandemic, I see telemedicine as a part of a growing trend with micro clinics, home health, and wearables working to decentralize medical care. The infrastructure has improved by leaps and bounds recently, and I'm excited by the possibilities for the future, particularly in rural and underserved communities where access to care could improve dramatically.
Other trends I'm excited to see develop are the growth of neuromodulation indications, integration of improved computational models into clinically relevant tools or procedures, and improved cybersecurity to accommodate the growth of personalized and at-home medical devices.
What inspires you most about taking on the challenges of becoming an entrepreneur?
I'm driven by the opportunity to create something from the ground up and inspired by the chance to instigate clinically relevant change in patients' lives. My desire to impact patients' lives led me to medicine in the first place. I realized in training that I wanted my impact and work to be felt by a larger patient population, and so initially I moved towards research. But there are so many great ideas within medical research that never make it to a patient's bedside. What these ideas often lack is either a relevant market fit or a clear value proposition. Healthcare does not exist in a vacuum, but my training as a physician and scientist lacked lessons on what it takes to make something both clinically and commercially relevant. The lessons I've learned on my current journey have given me the chance to move further along the path to commercializing a life science idea.
How has your experience as VIC Fellow added to your skills as an entrepreneur?
My experience as a VIC Fellow has supplemented my journey by providing unique insights into the rationale the other side of the table has when evaluating deals. We're privileged to have a diverse group of experts that bring different perspectives to the table during opportunity assessment, often raising pertinent questions that I would have never considered. As an entrepreneur, understanding which risks need to be prioritized for an investor is a key aspect of building appropriate milestones and building momentum.
Additionally, interacting with inventors on behalf of VIC has also provided a unique opportunity to observe firsthand how small things can make a big difference in presenting an idea and opportunity. Clear communication is instrumental, particularly when communicating with varying levels of domain expertise. It's all been very educational.
With your experience in the Dallas and Houston life science ecosystems what do you see for the future of health innovation in Texas?
There's great opportunity with a lot of untapped potential for health innovation within Texas. Some of the best minds in science, medicine, and engineering are already here, and their numbers are only increasing. Many Texas cities are regularly included in lists of the fastest growing cities in the country. There's major movements to incentivize innovation and research beginning at the state-level through unique programs like CPRIT all the way down to local institutions, where investments are promoting the formation and launch of a growing number of start-ups. In the future, I think cities in Texas like Dallas, Austin, and Houston will form its own hub of investable opportunities that will rival the Bay Area and the Northeast in deal flow.
Other topics you would like to discuss about your experience with VIC or VIC portfolio companies?
VIC shines in its breadth. I've learned so much about topics that were outside my scope of expertise initially, and I am grateful to be a part of a program that promotes self-driven exploration and curiosity. I am a firm believer that a diversity of thought and background promotes insightful discussion and ideation. The team at VIC and its portfolio companies exemplifies this tenet.
What was your most interesting task or contribution to VIC portfolio company Solenic Medical?
I've learned a great deal about the industry but also about myself while working with Solenic Medical. I can't think of one task but rather a range of tasks early on that I found interesting and portended my shift away from clinical practice. These included simply consolidating existing research on market opportunity, reimbursement pathways with coding possibilities, IP landscaping, and discussions on regulatory milestones/timelines. My experience at Solenic Medical has been instrumental in building my understanding of what an early stage medical device start-up requires.