The VIC Fellows Program provides an opportunity for individuals with relevant expertise and interest to learn how to identify and evaluate promising innovations from global sources. We are pleased to highlight the members of the 2022-2023 class of Fellows in our ongoing series of interviews, such as this recent discussion with Mark Jarboe, MBA.
Please tell us about yourself and your background.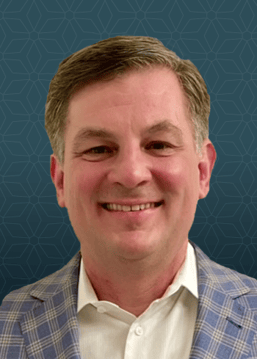 I was very fortunate to start my medical sales career right after graduating college with an early-stage surgical laser company. It was there that I got to see first-hand the benefits that bringing innovative and disruptive technologies to market can have on patients and clinicians. Another benefit from working in early-stage companies were the opportunities to be involved in so many different aspects of the organization from sales, sales management, product development, clinical studies, regulatory to reimbursement and how critical it is for all of those departments to work strategically together. Throughout my career, my main responsibilities have been essentially sales, but having a better understanding of all of those areas has been very helpful in developing and articulating successful sales strategies.
My wife, Lee, and I live in Atlanta, GA and are blessed with two children Emerson (13) and Garrett (11). As a family, we enjoy traveling, outdoor activities, and supporting our children's sports of choice, volleyball and basketball respectively. My undergraduate degree is in Political Science from Miami University in Oxford, Ohio and I also have an MBA with an emphasis on International Business from Georgia State University in Atlanta, GA.
What made you decide to become a VIC Fellow?
I first learned about VIC several years ago, while doing research for a panel discussion we were hosting on healthcare investment. Each firm discussed the different stages that they would make investments and the types of technologies that they were focused on. That is when I first learned about VIC's model of investing and how unique it was. Most firms seemed to be investing once a team was in place, the company was formulated and was already commercialized and generating revenue.
I have always been very interested in learning more about how the decisions were made by investors on which technologies they would invest in and why they didn't invest in others. The VIC fellowship was also very appealing because of the wide range of life sciences that they would invest in. I have spent most of my career in medical devices and Health IT companies, this was an opportunity to learn more about the development and investments in pharmaceuticals, therapeutics, vaccines, and diagnostics, especially how due diligence is done and deals are structured.
With your experiences in the life sciences ecosystems, what do you see for the future of health innovation in the US?
The Covid-19 pandemic broke down numerous barriers to innovation and brought to market technologies that previously would have taken years. More importantly, it showed that innovation could be quickly implemented, healthcare has traditionally been very cautious and therefore slow to adapt new technology. However, I do think that there will be a tightening of investment dollars for inventors over the next couple years, because of the record amount of investments that have occurred in the past couple of years as well as economic concerns and those factors could slow what we see coming to market.
Here in the Southeast, there is an of emphasis on Health IT, Artificial Intelligence, and Personalized Data technologies and developing them to improve health outcomes. As mobile devices, wearables and remote patient monitoring systems become more common this will increase the amount and ease of collecting vast amounts of data, the challenge will be how to interpret all of that information and more importantly what actionable items can clinicians and patients do with it.
I think there will continue to be a focus on technologies from inventors and investors around mental health, DE&I (diversity, equity and inclusion), and how to better address the needs of rural and underserved populations. Another area of innovation will be how and where healthcare is delivered, moving away from typical brick and motor health systems, to more convenient and cost-effective means.
Overall, from the types of technologies that we are seeing being worked on, innovation in the US is as strong as ever and we will continue to be amazed at what will be coming to market in the future.
Our readers would love to know more about your experience as COO of Health Connect South
Health Connect South was started 10 years ago to promote regional health collaborations and highlight the healthcare assets that are here in the Southeast. Many healthcare events or conferences are very specific to a certain specialty or aspect of health. The idea was to bring together all aspects of health care; industry, academics, health systems, payors, researchers, innovators, etc at a very high level to share what they were working on and what they might need to help them. We wanted the event and the organization to be a platform to help define and advance the Southeast's role in the future of health, with an emphasis on fostering unique and meaningful partnerships.
It has been a great opportunity to every year get to work with and learn from those that are prominent leaders in their respective fields, and to hear what they are working on and what the future holds.
What insights have you gained from your experience about the needs for early-stage technologies to move forward successfully?
I don't mean any disrespect and certainly understand the benefits of developing technologies and science for the sake of discovery. However, it is amazing to me the number of technologies that are being developed at the university level that have very limited commercial applications. Another is the lack of how the technology will actually be used in the market and will the intended benefits be meaningful. Too often the only exposure or conversations about the technology are with academic medical institutions, which can be very different from other health systems in the way healthcare is practiced.
For example, many devices we have looked at tout the benefits of saving time, but if that product doesn't allow or the clinicians aren't able to do more cases then there is no benefit to the time savings. Another is an understanding of how financially the technology will be evaluated, what is the amount of reimbursement, etc and how all of these factors play into successful market adoption.
Having a better understanding and being able to articulate these aspects to potential investors, strategic partners and/or acquirers would enable companies to gain the resources and support that they need to be successful much faster. Many are very good at presenting and understanding the clinical benefits, but those have to align with the financial ones to be successful.
I would highly recommend programs like the National Science Foundation's I-Corp to anyone.
What is the synergy between VIC and emerging life science ecosystems like Atlanta?
There has been tremendous growth in the life science ecosystem in Atlanta and the state of Georgia in the past 10 years. Thanks in part to the Centers for Disease Control, R1 Universities and the presence of several global healthcare companies. The state also recently passed the Life Sciences Manufacturing Tax Credit, borrowing from their success in using tax credits to attract the movie industry. Georgia now produces more movies and TV shows than Hollywood. I say this because the state recognizes the economic development benefits of the life science industry and is actively trying to recruit more companies here and foster investments and innovation in life sciences.
Georgia received over $744 million from the NIH in 2021 and academic life science R&D expenditures were almost $1.4 billion in 2020. Venture capital yearly investments averaged around $150 million in the state from 2015-2020, but jumped to $530 million in 2021.
While that is good news and hope the trend continues to increase, it really highlights the amount of dollars that are spent on scientific discovery compared to investments in early-stage companies. This gap is commonly referred to as the "valley of death" and that delta shows just how real that valley is!
I think VIC and its model of investing are not only needed but will be welcomed and help to continue to build the life science ecosystem here.
Any words of wisdom for folks interested in applying to the VIC Fellows program?
You miss 100% of the shots you don't take! I have benefited greatly from learning more about the VIC model, but have mostly enjoyed learning from the other fellows, who I'm happy to call friends and will be valuable resources moving forward.