The VIC Fellows Program provides an opportunity for individuals with relevant expertise and interest to learn how to identify and evaluate promising innovation from global sources. We are pleased to highlight the members of the 2021-2022 class of fellows in our ongoing series of interviews, such as this recent discussion with Michael Gaspar, MD.
Please tell us about yourself and your background.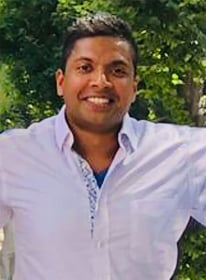 Hailing from rural Virginia, I decided to make the trek up north to attend Cornell University where I studied bioengineering as an undergraduate and also was a varsity athlete, playing wide-receiver. My interest (and experience) with sports injuries, biomechanics, and medicine all played a role in piquing my interest in orthopaedic surgery. After college, I returned "home" to attend medical school at the Medical College of Virginia, then subsequently had stints in Chicago, New York, and finally Philadelphia for my academic surgical training. I spent more than five years as the Research Director at the Philadelphia Hand to Shoulder Center at Thomas Jefferson University where I got to see firsthand the importance of research and new technology in pushing medicine forward.
You have a unique combination of medical, business and entrepreneurial experience. What are your long-term goals and/or where do you see yourself in 5-10 years?
From a business and entrepreneurial standpoint, I think I am definitely a late bloomer. It wasn't until after I was working for a few years in Philadelphia and was exposed to various emerging orthopaedic technologies from smaller companies when I realized that my business experience was virtually non-existent. I went back to school part-time to get my MBA from UVa so that I could learn the "nuts and bolts" of business with the hopes of applying that knowledge to healthcare innovation. I left academic medicine at the end of 2020, and took a leap of faith in starting my own boutique healthcare consulting company this year. Over the next decade, I am hoping to grow that business, while adding new areas of expertise as I obtain it, such as technology transfer. My vision, however, is to not lose sight of the personal touch that I can provide, which I am hopeful will continue to help set me apart from the more bloated consulting machines out there.
You were previously in Philadelphia but recently relocated to the DC metro area. What is your take on the relative strengths and weaknesses of these ecosystems from both the healthcare and life science innovation perspectives?
I think Philadelphia may be one of the most underrated cities in the country when it comes to healthcare. There is a large number of university-affiliated academic medical centers all within a relatively small geographic footprint, which lends itself to a number of options in addition to many highly-respected private centers. In some ways, I see the DC area as more of an untapped resource. I think a lot of folks see DC and think of law or politics, but it's easy to forget that a lot of major government agencies that are responsible for funding breakthroughs in healthcare innovation, including the NIH, NSF and FDA, are all in the area. I think a more open pipeline between these agencies, and the education and healthcare institutions would be hugely beneficial to everyone involved.
What do you see as being the greatest unmet needs/areas for improvement in healthcare?
Despite sometimes getting a bad reputation, I firmly believe we have the best healthcare system in the world. There is a reason that physicians and scientists from around the world are knocking on our door for the opportunity to study, train and research here. That said, there are certainly shortcomings and needs to be met. I think access to healthcare is always going to be a hot-button issue that will continue to present challenges. However, I also think humans tend to adapt to challenges quite well as evidenced by the boom in telemedicine that was prompted by the COVID-19 pandemic. One of the issues that I think is only starting to come to the forefront is the loss of patient-centered care. We now have access to so much data that I feel like patients can become faceless datapoints with diseases. Using our ever-increasing knowledge of patient outcomes, while still treating the individual is a tough line to walk, and will continue to be.
Continuing with this theme, how can life science innovation make the largest impact?
Life science innovation is in many ways the lifeblood for improvement in healthcare, and I think we have a very welcoming environment for continuing to push the envelope. I think innovation also allows us to bring the patient back into the center of the equation. If we look at therapeutics, for example, diseases that had only one or a few treatment options years ago, now have dozens of available therapies, which allows care to be more tailor-made to the patient. This is true across the board, from autoimmune disorders such as inflammatory bowel disease and rheumatoid arthritis, to psychiatric conditions such as depression. In that sense, more innovation means more options for patients.
How do you see orthopaedic and bioengineering—two areas that you've specialized in—evolving in the near term?
One of the appealing aspects to me about orthopaedics from an innovation standpoint is how there is a strong element in both devices and therapeutics. Recombinant human Bone-morphogenic proteins (rhBMP's) have had a huge impact on orthopaedic surgery, particularly with regards to complex injuries with significant bone loss. Other allograft technologies, such as amniotic membrane, which have been used successfully in other surgical fields have also made their way into orthopaedics. In the near term, we will see more interplay between bioengineering and orthopaedics in the field of pain management. It's no secret that orthopaedic injuries are generally quite painful, and orthopaedic surgeons tend to prescribe opioids in large quantities. I think attention on the opioid crisis got lost in the shuffle this past year with the pandemic, but as COVID becomes more and more controlled and we turn our attention back to the opioid crisis, there will be a renewed interest in finding alternatives to opioid pain management. This is an area ripe for innovation, not just with new medical therapies, but also with technologies such as nerve stimulators and neuromodulation devices.
What was your least favorite aspect of orthopaedic surgery and what did you enjoy the most?
The long hours and nights on call were definitely my least favorite element of orthopaedic surgery and were what ultimately prompted my decision to leave clinical medicine. It was a very difficult decision, however, as there were so many aspects of orthopaedics that I loved and that I will surely miss. There was the instant gratification of setting a fracture, and I always loved operating. I also enjoyed the aspect of making patients feel whole again. They are–quite literally–coming to you broken, and you get to fix them. What could be cooler than that?
What drew you to the VIC Fellows Program and what are you hoping to get out of this experience?
Despite having spent more than a decade in academic medicine, I realized there was this whole world of healthcare and medicine that I had not even touched. In particular, I never appreciated the process of taking an idea from conception all the way to production and for use in human medicine. That was part of the reason I wanted to go to business school in the first place. I also saw the opportunity to put a lot of my somewhat disjointed interests–orthopaedic surgery, biomechanics, clinical research, innovation, business and entrepreneurship–all to work in a cohesive manner. Ultimately, I'm hoping to learn as much as possible about the entire process surrounding life science intellectual property, and potentially use the skills and knowledge I learned from the VIC Fellows Program to provide opportunity assessment as one of my consulting practice's offerings in the future.