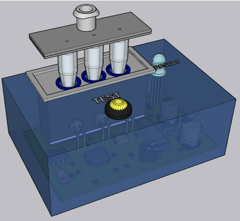 VIC Foundry, in collaboration with Sandia National Laboratories, is developing a self-contained isothermal nucleic acid amplification test to address an unmet need for at-home testing of COVID-19 infection. This diagnostic technology uses Sandia's patented QUASR (Quenching of Unincorporated Amplification Signal Reporters) assay with sequence-specific fluorescence detection, combined with VIC Foundry's innovative designs for a low-cost test cartridge and monitor. The test cartridge is disposable and contains room temperature-stable dry reagents specific for two SARS-CoV-2 RNA targets and one internal control.
Performing a test comprises the following simple steps: 1) Insert cartridge into reader and remove inlet reservoir cover; 2) Collect a shallow nasal swab specimen (painless and simple to do, unlike a nasopharyngeal swab); 3) Stir the swab with the pretreatment reagents in the inlet reservoir for a few seconds; 4) Inject the solution into the cartridge using a supplied plunger; and 5) Push a button to trigger the test. The total turnaround time is less than 30 minutes.
This approach is easy to use like a lateral flow assay, but provides analytical and clinical performances comparable to the current gold standard RT-PCR tests, with a much shorter turnaround time and simple, inexpensive instrumentation. Compared to existing RT-PCR and isothermal amplification assays, the VIC Foundry at-home molecular test will make COVID-19 testing much more convenient and accessible, while also providing the required sensitivity and specificity.
Funding for the project is being provided by the National Institutes of Health (NIH) Rapid Acceleration of Diagnostics (RADx) Tech program to support new approaches to nationwide COVID-19 testing and surveillance. The $250,000 award is managed by Consortia of Improving Medicine with Innovation & Technology (CIMIT) and the NIH Point-of-Care Technologies Research Network (POCTRN). The funds will help guide development, validation, and further advancement of the technology. CIMIT and POCTRN are supported by the RADx Tech program and have been funded in part with federal funds from the National Institute of Biomedical Imaging and Bioengineering, National Institutes of Health, Department of Health and Human Services, under Grant No. U54EB015408.
About VIC Foundry
VIC Foundry is one element of the VIC innovation ecosystem that includes VIC Technology Venture Development, VIC Investor Network, and various associated programs such as the VIC Fellows. VIC Foundry develops technologies that have a potential substantial impact and commercial promise, but need additional development prior to private equity funding. Instead of private equity, VIC Foundry further develops promising technologies by accessing various grant funding opportunities. Upon successful completion of the given grant-funded project, a new company is formed, an initial executive team is placed by VIC, and the VIC Investor Network makes a founding investment into the newly formed company. To learn more, visit vicfoundry.com