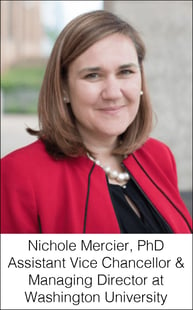 You are the Assistant Vice Chancellor & Managing Director for Technology Transfer at Washington University in St. Louis. Can you please tell us about your background and what drives your sense of purpose in technology transfer?
I have a background in Cell Biology, but when I was pursuing my doctorate, I found that bench work did not energize me the way it did for my fellow grad students. At the same time, however, I had the opportunity to work in the technology transfer office at the university and it enabled me to understand that I loved the big picture and the potential applications of research. Thus, after finishing graduate school, I went straight into tech transfer. Many researchers have a vision of how their work could benefit society and my work in tech transfer enables us to vet these ideas and give them a shot at making a difference.
Tell us more about some of the hallmarks of Wash U: What are the primary areas of innovation and expertise that the campus is known for?
WashU innovation is exciting. We have strengths coming out of our Medical School and our McKelvey School of Engineering. We have products on the market or in development that treat and diagnose Alzheimer's disease, to regrow tissue to heal intractable wounds, to enable pregnancy in infertile women while also providing them a better quality of life in the treatment process, to train those with hearing impairment to have better speech discrimination and social interaction, and to relay fast communications whether that is applied to stock market trading or internet outages.
Working in the Office of Technology Management—which assists faculty in bringing discoveries from the lab to market—what are the biggest challenges or road blocks you see in this process?
Research in the university is very early stage. Oftentimes, grant funding associated with discoveries is not aligned to answer questions that de-risk a technology and move it closer to a commercialization event. Sometimes, moving these technologies into startup companies makes a lot of sense as the company can apply for different types of government grants or find seed money to de-risk the technology. Also, in starting up companies around nascent technology, our researchers can find partners such as VIC that can add business and strategic vision to the technology. Our investigators are trained to interrogate cutting edge scientific questions, but not to lead companies and develop products. So the university relies on partners like VIC where we've established a trusted partnership and know they bring value that enhances the key discoveries of the university researcher.
Wash U and VIC Technology Venture Development have worked together on several startups including CardioWise and OsteoVantage. What makes this partnership successful?
As mentioned above, VIC brings the business side of the partnership--along with their strong technical skills--to the companies that have been spun out of WashU and supported by VIC. In our partnerships with VIC, we've had medical device technologies with great validating data. VIC was able to pull together the company lead, support grant writing, and engage WashU investigators in technical discussions leading to product concept and development. We need strong individuals who understand how to work with a university and with university researchers. VIC has a strong understanding of their university partners and how to support them, which has been a big win for WashU.
Wash U launched a Women in Innovation and Technology (WIT) program...what sparked the creation of this program?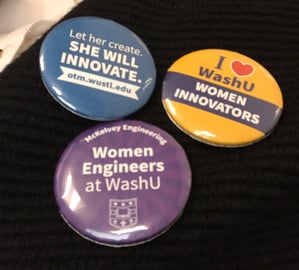 Our WIT (Women in Innovation & Technology) program was important to me as I had read a lot about how women innovators engage in commercialization to a lesser degree than men and that they tend to patent their work at a lower rate. In 2013, the university was embarking on a major push around innovation, and we believed that we could make a serious difference in how our female researchers engaged in tech transfer activities, or at the very least, we could prevent them from losing ground. What we found was by pursuing education around commercializing academic research and helping women build their networks in the commercial space (which are two key reasons why women don't participate), we saw significant growth in the overall engagement of women who submitted ideas for patenting and in the number of patents filed with a female inventor. What is even better is that when we started the program, we had no women who were startup founders, but now we are on the verge of our third female founder and two other women who did not take founder's equity, but whose IP was a key strategy in a nascent startup. So we are excited about these results and feel really good about leading in this discussion around the importance of women in innovation!
We have seen photos of WashU's amazing 'Startup' wall, what have you learned about how to support high-risk, high-growth businesses?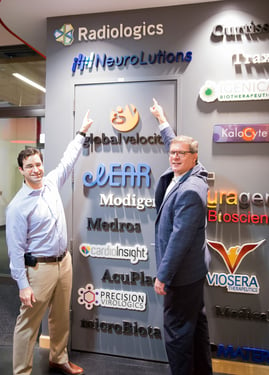 In the last 5 years, WashU has started 50% of all of its startup companies. This is huge as in some years we have double or tripled the historical annual numbers. Why is this happening? Because we have worked hard to support startup companies and make it easy for researchers to take a technology out of the university and into a startup. We established an express license that was vetted by investors, entrepreneurs, and attorneys who represent startups prior to its launch. The license was designed to enable startups to retain raised capital and invest it in research and development by providing extremely favorable terms. The university has also foraged relationships with VIC and other groups that can help startup companies obtain grants or investments, and the university has subscribed to networks like the Academic Venture Exchange (AVX) and Executives on Roster (XOR) in order to help company founders find executive talent to drive ideas and business plans forward.
Are there other initiatives underway or planned that you'd like to highlight?
Currently, we are working on ways to be more proactive with engaging industry and having a more holistic understanding of the university's research portfolio, whether or not it's been made known to us yet. This entails taking key niches of research strength and really understanding what drives market decisions. So we are looking at who's investing money in the area, what are they investing in, as well as who is acquiring companies in the area. Then we are amassing our research portfolio knowledge, which has become easier with artificial intelligence tools that have recently been developed. The ultimate goal is to form a small band of companies that can inform our thinking around the research portfolio and provide insight and direction on de-risking the technologies identified or thinking about partnering strategies. We are hopeful with better intelligence, we will make better decisions and forge new partnerships. If we are successful, we'll be looking to scale in other sectors.
The Midwest has been referred to as "The Silicon Prairie," and some prominent networks are now focused on investing in the Heartland, which includes the Midwest and the South. Why do you think some start-ups and investors are moving their focus from the coasts to other places?
Interesting question – there was just an article written on this topic in the St. Louis Post-Dispatch. The article cited that investors and small companies have a talent retention problem on the coasts, meaning that they expend a lot of energy in training new employees for the limited amount of time before finding a new job. What these companies and investors have realized is that St. Louis offers premier research paired with top-level talent, which is stable (!) and committed to grow and scale a business, in an area of the country that is easy to live and still prime for investment and growth. It's always been here, but certain factors are now driving the re-discovery.
What advice or guidance can you provide to other universities, institutes and national labs that are trying to move their innovations from the lab along the path to commercialization?
In thinking about best practices to move innovation forward, it is difficult to find a one-size fits all model and we really need to use all the opportunities available to us. Sometimes, this may be preparing faculty members to be advocates for their own technology – helping them to understand how to pitch their work when speaking with an industry colleague at a conference or enlisting their help when you find opportunities for face-to-face discussions around technology. In other instances, this might mean finding partners like VIC, who can help the tech transfer office (TTO) and faculty member visualize the path to commercialization. Our job in the TTO is to enable technology to have the chance for development and to be tested by those in the commercial space. Most TTOs are like mine – the volume of invention disclosures limits our ability to dive deep, but systematic usage of ecosystem or sector experts can help TTOs to better sort through the volume.
When you look ahead 10 or 20 years, what changes or trends do you think are likely, in terms of technology startups and the role of research universities in the US economy?
The book "Prescription for Change" by my colleague, Michael Kinch, forecasts how large pharmaceutical companies are acquiring new biotechs at a faster rate than they are being formed. Large pharma has all but removed themselves from pursuing innovation and new discovery, rather sourcing new opportunities through such acquisitions. Today, university startups can move early stage innovations forward to test ideas outside of the university. If the current trends persist, university startups will become even more critical as the sole source of driving early stage discoveries into innovative products that could have societal impact. The good news is that even 10 years ago, new researchers moving into their first faculty positions were not thinking about tech transfer upon entering this role. However, university support for innovation and strength of the local ecosystem are becoming factors for faculty recruits in parsing through job offers. Moreover, graduate students and post-docs are leaving the university with a good understanding of the various components and relationships needed to commercialize academic research, which positions them well for jobs of the future.