Establishes Operations in Colorado to Invest in Life Science Innovation Sourced Directly from State's Leading Research Institutions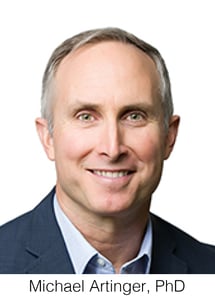 BOULDER, CO – February 14, 2019 – VIC Technology Venture Development™ (VIC) announced today that Michael Artinger, PhD has joined the firm as Executive Vice President as well as Managing Director of the recently-opened Colorado Branch. Dr. Artinger brings to the firm a wealth of experiences shepherding technologies—with the potential to dramatically improve global health—from early-stage research to market-ready products. During his 23-year career, he has raised significant capital and realized multiple exit events, working across multiple industries and sectors, including therapeutics, vaccines, medical devices, diagnostics, information technology and software.
Dr. Artinger has held appointments as Visiting Scientist in Medicine at both Harvard Medical School and Brigham and Women's Hospital, and conducted his Postdoctoral research at the Cardiovascular Research Center at Massachusetts General Hospital and Harvard Medical School. He earned his Doctorate degree in Biology focusing on Developmental and Cell Biology, as well as his Baccalaureate degree in Applied Ecology from the University of California at Irvine.
"It is a pleasure to be working with VIC to identify promising innovation from our State's research community, and put much-needed early-stage funding to work moving them further into development," said Dr. Artinger. "Although the term "Valley of Death" is overused, it cannot be emphasized enough how difficult it is to obtain this kind of capital. I very much look forward to partnering with regional stakeholders to make a meaningful impact in this critically important arena."
VIC partners directly with the sources of technical innovation, forming new companies and investing disciplined early-stage capital. The VIC venture development ecosystem provides shared resources across its portfolio, including interim management and back office support.
According to Jennifer Jones Paton, President of the Colorado BioScience Association (CBSA), "A new source of funding dedicated to healthcare technologies will allow our industry to build on its history of entrepreneurship and foster a vibrant start-up ecosystem in Colorado. We look forward to working with Dr. Artinger to attract additional capital that boosts our state's economy and aide the industry in delivering next generation treatments and cures to patients."
Added Bryn Rees, Assistant Vice Chancellor for Research & Innovation and Managing Director at Venture Partners at CU Boulder, "Dr. Artinger has been an active contributor to the Colorado lifescience ecosystem during the past 17 years, and I am sure I speak on behalf of the other universities, institutes and hospitals when I say that having him lead VIC's investments in our promising healthcare innovation is a tremendous win for the region."
About CBSA
CBSA serves as the hub of Colorado's thriving bioscience sector by connecting innovators to funding, infrastructure, research and talent. From promising young companies to established corporations and institutions, CBSA provides opportunities for networking, education and professional development. CBSA represents more than 350 member organizations, including biotechnology, pharmaceutical, medical device, diagnostic, ag bio and mobile digital health companies, research and academic institutions and service providers. For more information, please visit https://www.cobioscience.com/
About Venture Partners at CU Boulder
Venture Partners at CU Boulder brings together industry partners, entrepreneurs and investors to help CU Boulder researchers solve important problems and improve quality of life worldwide. Venture Partners provides a suite of value-adding services, including education, mentorship, intellectual property management, funding, and venture development. For more information, please visit https://www.colorado.edu/venturepartners/