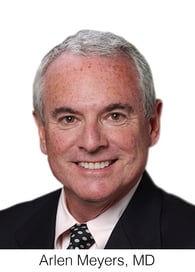 1. Tell us about your background and experience.
I'm an emeritus professor at the University of Colorado School of Medicine and teach bioentrepreneurship at the Anschutz Medical Campus and the University of Colorado Denver Business School. I'm the cofounding President and CEO of the Society of Physician Entrepreneurs at www.sopenet.org.
2. What is a VIN Partner?
I help identify accredited investors interested in joining our VIC Investor Network and medical experts who can serve in various advisory capacities to the invested companies as well as help VIC with due diligence.
3. What made you decide to get involved with VIC Technology Venture Development?
I felt it was important to help life science entrepreneurs find management and funding, particularly raw technologies coming from academic research and government labs.
4. Looking forward, what are the primary macro challenges facing healthcare?
I believe the key ones are changing sick care to healthcare, training the biomedical workforce to win the 4th industrial revolution, and changing doctor and patient behavior to make better value-based choices.
5. What are the solutions?
We need to reform medical education, create digital health solutions that achieve the right balance of high tech with high touch, graduate students with an entrepreneurial mindset and remove the barriers to biomedical and clinical innovation and entrepreneurship.
6. Could you discuss the current funding climate for early-stage life science innovation, especially technologies coming out of universities, institutes and national labs?
Funding climates differ depending on whether you are developing a drug, a device, a diagnostic, a digital health product or service, or a care delivery innovation. Money is inequitably distributed across the country and generally difficult, time-consuming and expensive to get.
7. Among your many accomplishments, you are the founder of the Society of Physician Entrepreneurs. Tell us more about the organization.
SoPE is a global, non-profit, open, biomedical and clinical innovation and entrepreneurship network providing members with education, resources, networks, experiential learning, peer-to-peer support, and non-clinical career development guidance. Our mission is to help members get their ideas to patients or help someone who is.
8. What are the synergies between VIC and SoPE?
The pillars of biomedical innovation are intellectual property, regulatory approval, reimbursement, team execution and adequate funding. VIC helps bioentrepreneurs, like those in SoPE, overcome those barriers.
9. Any thoughts in closing?
Every advanced economy in the world faces the same problem of meeting an almost infinite demand for care with scarce resources. As such, innovation and biomedical entrepreneurs who develop and deploy it will be more important than ever.