Historically, innovative technologies discovered at universities, institutes and national labs have had two primary paths towards commercialization: (1) licensing to a large, pre-existing company; or, (2) licensing to an early-stage startup, often founded by the faculty inventor.
The former has the advantage of partnering with a mature entity with the resources and expertise necessary to accelerate development. This route, however, typically does not provide the source entity with an equity component in the license agreement and requires little if any involvement by the inventors or their organization (i.e. throwing the technology over the wall and hoping for the best). Moreover, most university inventions simply are not mature enough to be of interest to an established company. When the risk level is high, a startup is often the only option. This mechanism usually entails the inventor taking an active role in the creation and management of the NewCo, or prematurely hiring a CEO who often lacks sufficient experience and credibility to raise capital. These companies suffer high failure rates due to inadequate due diligence, lack of customer understanding, a focus on research rather than product development, absence of business development experience, and poor understanding of the many challenges ahead.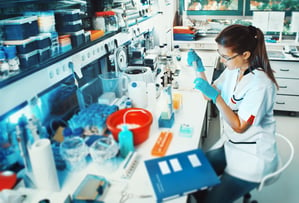 During the past 5-10 years, several investor groups that previously followed the traditional VC model of investing at Series A and later rounds in pre-existing companies have pivoted towards working directly with universities and other organizations to identify innovations that align with their areas of interest, and create de novo entities with members of the firm taking operating roles in the startups. In some cases, the investment group also applies shared resources across its portfolio, such as finance, accounting, legal, administrative, human resources, marketing, and sometimes research and development. Early-stage startups may also receive incubation support, in the form of programs and access to specialized physical infrastructure. Depending on their interest and availability, inventors will often still have a role in the NewCo as CMO/CSO/CTO, Scientific Advisor and/or leading company-sponsored research in their labs.
With this is mind, it may be prudent for technology transfer entities to re-think the default "faculty-founder" model, and instead, consider even their top candidates for this innovative approach.
Not surprisingly, there are multiple reasons why company formation is more attractive to investors than backing pre-existing companies. For the most part, these fall under the umbrella of avoiding legacy structural issues including, but not limited to: overly complicated cap tables; unrealistic expectations for valuation; entrenched, underqualified or unqualified management; suboptimal execution/oversight of—fill in the blank—patent prosecution, product development, legal affairs, etc.
Several variations on the company formation investment model can also be found. In some cases, the firm is focused only on a specific type of technology, or geographic region, amount/stage of investment, and/or the extent to which shared resources are allocated.
So how can universities, institutes, national labs and other sources of innovation best tap into this alternative approach? First is to acknowledge that an emphasis on having faculty inventors or their postdocs/students create their own companies has a very low likelihood of success. Paradoxically, many universities have made this route their primary go-to strategy, which can be a lose-lose situation for both the innovators themselves and the technologies they hope to develop and commercialize.
Although there are an increasing number of VCs shifting to the company formation model, VIC Technology Venture Development is unique in that it always has been focused on accessing best-in-class innovation directly from universities. But what exactly is different about the VIC method?
There are several characteristics of the VIC approach that--when combined--lead to a very different mechanism for investing in high-impact healthcare innovation. Most notably is the fact that VIC Investor Network or VIN--which is open to accredited investors--puts proof-of-concept funding into every new company that VIC creates. This allows individuals to make targeted investments in VIC portfolio companies based on the type of technologies they are developing, the specific diseases they are addressing, the stage of the company, or any combination of these.
Secondly, VIC has highly experienced Managing Directors in branch offices around the country who serve as the interim CEOs of its portfolio companies for a defined period of time, typically 18-24 months. This allows the right-timing of hiring a long-term CEO to coincide with key milestones, such as de-risking the technology and raising a threshold amount of capital.
Next are the shared administrative and scientific resources that VIC allocates across the portfolio, thereby prioritizing the initial seed capital and follow-on rounds for product development.

Last but not least is the firm's global reach, partnering with universities regardless of location to identify and advance technologies with the greatest likelihood of improving healthcare: new therapeutics, vaccines, medical devices, diagnostics, analytical instruments and related opportunities.