Updated October 2022
Twenty years ago, a two-bedroom apartment in the heart of Silicon Valley would cost an entrepreneur about $1,600 a month. Today, the same apartment would go for $4,000 per month or more. The cost of living and doing business in startup-rich coastal cities have followed a similar trendline, making these regions challenging at best, and uninhabitable at worst (1), for founders to do business and attract talent. Yet about 70% of venture capital dollars still go to just four markets—the Bay Area and Los Angeles on the West Coast and New York and Boston on the East Coast—with fewer but ever-larger deals being another signal that the market for early-stage, high-growth companies located in these regions is shrinking and saturated.
Fortunately, for angel investors and family offices who want to make an impact with early-stage startups, for which higher-risk is offset by higher-potential-return, innovation happens everywhere. Often driven by talented inventors at research institutions and major universities funded by the federal government, technology innovation has never been stronger in the middle of the country. As Walton Family Foundation Fellow and former head of research for the Milken Institute, Ross Devol, has noted, states such as Wisconsin, Indiana, and Tennessee are among the largest magnets for federal R&D dollars and in the production of intellectual property (2). Other states such as Missouri, Illinois, Michigan, and Minnesota bring to bear prolific sources of new technologies such as Washington University, Oak Ridge National Labs, the University of Michigan, and the Mayo Clinic, to name a few.
Historically, innovators in the often-termed "Heartland" states have struggled to move inventions from the lab to the market given the relative dearth of seed-stage capital and low density of entrepreneurial talent. However, cost of living, quality of life, the digital workplace, and other factors are changing that equation. For example, Fayetteville, Arkansas, home to VIC Tech's headquarters, has consistently been named one of the top ten best places to live by U.S. News and World Report (3) and has a thriving start-up scene.
Entrepreneurs and investors alike are taking note. AOL cofounder Steve Case and Anna Mason, a partner at the Revolution investor group's seed fund, have been bringing Heartland entrepreneurship to the top of the headlines through their Rise of the Rest tours. But as they and other prominent investors acknowledge, sourcing deals in the so-called "flyover" states requires a new way of working.
As noted by the National Venture Capital Association (4) a few years ago, "Investors seem to be turning their heads more towards the growing talent pools, maturing networks and ecosystems, and favorable pricing in emerging ecosystems, in contrast to the higher costs of living, operating costs, and valuations common on the coasts." The pandemic and remote work opportunities have accelerated this trend.
A few non-coastal states are beginning to see modest growth in the influx of venture capital, but the slow pace of change reflects not the absence of promising technologies, but more the social and infrastructural isolation of these regions from investor communities.
Merely trying to duplicate the approach and success of Silicon Valley is unlikely to work. Median pre-money valuations for US angel and seed-stage deals reached $9 million in 2021. Such high initial valuations are not compatible with the types of technologies developed by federally funded research at universities and federal laboratories. These technologies, while offering high upside, require careful staging of investment with risk mitigation strategies implemented at every step in the company development process.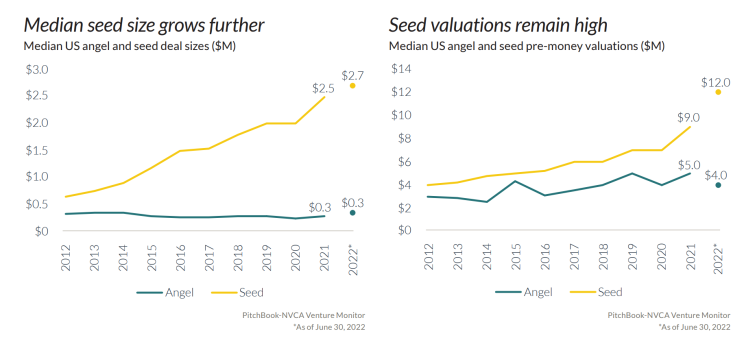 Investors need relationships with experienced partners who 1) know how to identify and validate promising technologies and 2) can connect these opportunities with experienced entrepreneurs and executives. In regions with a relatively low density of seasoned entrepreneurs, there is no straightforward formula.
VIC's innovation ecosystem—long agnostic to geography—is structured specifically to make the most of this untapped opportunity for inventors, entrepreneurs, and investors. Our portfolio represents the best of thousands of inventions we have examined, and the companies we create are led by people whose experience rivals some of the best firms on either coast.
For members of the VIC Investor Network, which was formed in 2013, this translates to a rare opportunity to realize investment opportunities from top technologies sourced from the results of over $120 billion/year of federally sponsored research. From breakthrough medical devices to lifesaving therapeutics, innovation licensed from universities and federal laboratories are developed within VIC's cost-efficient, risk-mitigating ecosystem. VIC Investor Network members have the opportunity to invest at all stages of company development. Experienced investors appreciate the attractive valuations, which can lead to much higher rates of return. Individuals new to technology company investing welcome the low minimum investment that allows them to engage slowly and expand their involvement as they gain experience, as well as spread their investments across multiple companies. VIC's growing nationwide presence is demonstrating a new approach for realizing the commercial opportunity and potential societal benefits available from the nation's substantial investment in science and technology.
References:
1. https://tech.co/news/silicon-valley-losing-tech-talent-2018-01
2. https://8ce82b94a8c4fdc3ea6d-b1d233e3bc3cb10858bea65ff05e18f2.ssl.cf2.rackcdn.com/1a/d6/96e90ae54261883d44891badb54c/the-american-heartlands-position-in-the-innovation-economy.pdf
3. The 25 Best Places to Live in the U.S. in 2022-2023 (usnews.com)
4. https://nvca.org/blog/8-takeaways-8-graphics-historic-2018-venture-capital/